Toronto Ontario, Canada, November 30, 2021 — SmartPrint Inc.,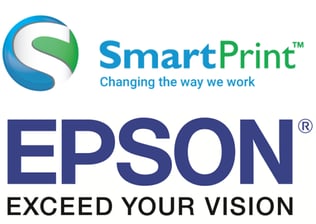 the leading Managed Print Services firm in Canada, today announced a new partnership with Epson America as a certified Dealer and Service Provider for Epson's complete line of Business Inkjet office solutions. As an Epson BusinessFirstSM Platinum Partner, SmartPrint can now offer customers Epson solutions that are engineered to provide cost-effective, highly reliable printing with environmental benefits.

"The SmartPrint team is excited about our partnership with Epson, and bringing their new game-changing office printing technology to the Canadian market," said Rob Farrell, vice president of Sales and Marketing, SmartPrint Inc. "With Epson's PrecisionCore Heat-Free Technology, we can offer customers printing solutions that are affordable and deliver the environmental benefit of low energy consumption."
"Epson has always been a 'channel-first' company and has built its Epson's BusinessFirst Partner Program to provide our partners with award-winning products, services and support to ensure their customers are successful," said Mark Mathews, vice president, North America Commercial Sales and Marketing, Epson America. "SmartPrint shares the same dedication to its customers, and we know together SmartPrint and Epson can future proof the workplace, providing PrecisionCore Heat-Free Technology™ solutions to unleash color printing in the office."
With Epson Business Inkjet printers, SmartPrint can offer its customers the following technology benefits:
A wide range of Epson Business Inkjet printers – from desktop to wide-format to enterprise models
Epson PrecisionCore Heat-Free Technology offering low power consumption
High-capacity ink supplies designed to be affordable, reliable and to reduce downtime
Fast print speeds and high-quality output
Wide range of connectivity options – mobile printing, Wi-Fi, PCL, Ethernet
Versatile media handling capabilities including auto duplexing and auto media size detection
Seamless integration with web-based enterprise applications such as Kofax Equitrac, Kofax eCopy, PaperCut, and others


About SmartPrint

SmartPrint is the leading Managed Print Services (MPS) firm in Canada working with large corporate clients with 100+ employees to enable them to outsource the management of their office printing and imaging devices. The goal of our managed print services program is to drive down cost, maximize efficiency and secure the print infrastructure within our clients' organizations. Our vertically focused expertise provides custom tailored solutions to each of our client's unique challenges.
During these challenging times resulting from the Covid pandemic, Canadian businesses are prioritizing the need for Digital Transformation. SmartPrint's years of experience enabling Intelligent Workflow Solutions provides our clients with complete workflow automation for Virtual Teams. Business will never be the same again, so SmartPrint is changing the way we work.
To find out more about SmartPrint, please explore our website: www.smartprint.com.
About Epson Business Inkjet
Epson's portfolio of high-performance business inkjet printing solutions forge the future of office printing and set the new standard for minimal intervention, affordability and low energy consumption. Engineered with Epson's innovative PrecisionCore Heat-Free Technology™, Epson's groundbreaking business printing solutions – from Supertank, WorkForce®, WorkForce Pro and WorkForce Pro HC for hybrid work-from-home and in-office small businesses to WorkForce Enterprise – deliver high performance with few moving parts to exceed market needs.
To learn more about Epson's portfolio of business inkjet printing solutions, visit Epson.ca/BusinessInkjet. To learn more about Epson PrecisionCore Heat-Free Technology, visit Epson.ca/Heat-Free.
About Epson
Epson is a global technology leader dedicated to co-creating sustainability and enriching communities by leveraging its efficient, compact, and precision technologies and digital technologies to connect people, things, and information. The company is focused on solving societal issues through innovations in home and office printing, commercial and industrial printing, manufacturing, visual and lifestyle. Epson's goal is to become carbon negative and eliminate use of exhaustible underground resources such as oil and metal by 2050.
Led by the Japan-based Seiko Epson Corporation, the worldwide Epson Group generates annual sales of more than US$10 billion.
Epson America, Inc., based in Los Alamitos, Calif., is Epson's regional headquarters for the U.S., Canada, and Latin America. To learn more about Epson, please visit: www.Epson.ca. You may also connect with Epson Canada on Twitter (http://twitter.com/EpsonCanada), YouTube (http://www.youtube.com/EpsonCanada), and LinkedIn (https://ca.linkedin.com/company/Epson-Canada).
# # #
EPSON, PrecisionCore are registered trademarks, EPSON Exceed Your Vision is a registered logomark and PrecisionCore Heat-Free Technology is a trademark of Seiko Epson Corporation. BusinessFirst is a service mark of Epson America, Inc. All other product and brand names are trademarks and/or registered trademarks of their respective companies. Epson disclaims any and all rights in these marks. Copyright 2021 Epson America, Inc.