On Wednesday, January 31st 2018,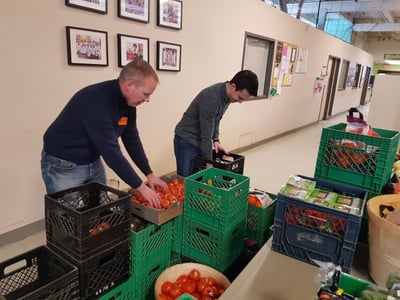 SmartPrint team members, Tim Lomax, Rob Farrell, Carol Berro, Steven Ryan, James Dunn, Andrew Thompson, Carolyn Allum, and Mike Hishon volunteered at Daily Bread Food Bank which is a registered charity and distribution hub that provides food and support to almost 200 food programs across Toronto. Daily Bread also works towards long-term solutions to hunger and runs innovative programs to support people on low incomes.
James Dunn always had a strong desire to volunteer at a food bank where the impact would be immediately recognized. James put

together the plan for the SmartPrint team
to be able to give back to the community, and
encouraged staff to make a monetary and/or food
donation.
When the team arrived at the Daily Bread, the staff quickly and efficiently organized the team into different roles with tasks to restock food for local pick up as well as work with supporting food bank customers in shopping and check out.
President, Tim Lomax shared his thoughts on volunteering:
"Having the opportunity to help out the Daily Bread Foodbank was an honour. Great cause, great people, great chance to give back to the community."
VP, Rob Farrell also shared his thoughts:
"It always feels great to give back to our community and it was fun to do it as a team effort. The Daily Bread volunteer day will definitely be an annual event for SmartPrint moving forward."
Overall, everyone felt it was such a fun and rewarding experience for a great cause that provided a direct impact, and brought everyone closer together with the singular goal - to help the fight against hunger.