At noon on Friday, December 8th 2017, SmartPrint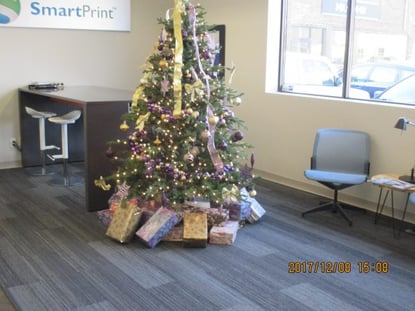 team members Carol Berro, Jannine Foster, James Dunn, Janine Marais, Carolyn Allum, Jen Infuso, Karey Ross, and Saul Collas participated in The Shoebox Project for Shelters, supported by Dream, which collects and distributes gifts in the form of shoeboxes to women who are homeless or at-risk of homelessness in communities across Canada and the US.
According to The Shoebox Project website, since 2011, The Shoebox Project has distributed over 91,000 shoeboxes, valued at over 4 million dollars and believes that a small gesture can make a big difference.
Carol Berro, Accounting Supervisor came up with
the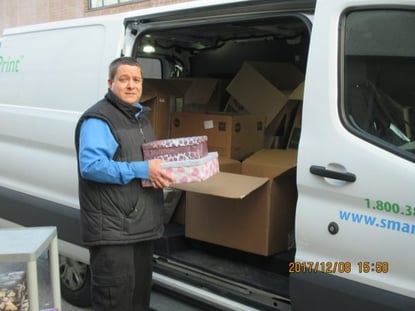 idea, suggested it to a few others that felt as passionate as her, and then an email was sent to all staff to see who would be able to donate, and also to see who could participate in wrapping and filling all donated items in the shoeboxes.
In total, 18 shoeboxes were then wrapped, and filled with items that had been generously donated from many SmartPrint employees. Each shoebox contained items valued at approximately $50. High quality items received included gift cards, skin care products, soaps and shampoos, make-up, chocolates, warm socks and mittens - nice products to help women feel special. Personal messages were also written for each recipient of the shoebox to convey our understanding and support to help women staying at shelters across Toronto remember she is not forgotten, cared for, and that she remains a valued and respected member of her community.
Once all the shoeboxes were ready, they were placed under our Christmas tree in which Saul Collas collected them, loaded them into his van, and dropped them off at the center to be distributed.
Overall, everyone enjoyed their time spent with their colleagues as it was a great team building exercise with many laughs shared at wrapping the shoeboxes.