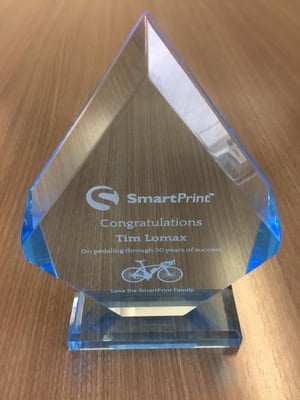 On October 27, 1987, together with my partners Patti and Sanford McFarlane, I bought a small company called A&M Carbon and Ribbon - named after it's founders Jim Allan (A) and Andy MacIntosh (M).
With just 6 employees, we generated $732,000 in annual sales selling; carbon paper, typewriter and word processing ribbons and these new-fangled things called floppy diskettes. Our tiny office would now look like a museum with black rotary dial phones, typewriters and a big ledger book for entering all the accounting entries – by hand! Not a computer, printer, fax machine or copier to be found. Surprisingly, it was one of the tightest run ships you'd ever see - very profitable and every penny accounted for. Filling Mr. Alan's shoes would be no small task.
It was both an exciting and scary time for a young 27-year-old with just 2 years of working experience and big dreams of owning his own business. I was also the youngest employee on the payroll. What made it even scarier was that the stock market had crashed the week before (the second biggest crash since 1929 that sparked the great depression). We didn't know it at the time, but it would take years to climb back to 1987 levels.
Over the past 30 years we've:
Rebranded from A&M Carbon & Ribbon to A+M Data Corp. to SmartPrint Inc.
Moved 4 times to accommodate our growth and a changing business model.
Bought 4 more companies - G&M Data, 3R Laser, LaserCorp and Dynacharge.
Sold millions of ribbons, toner cartridges and diskettes and printers.
Hosted 29 Christmas parties and ate hundreds of staff Birthday cakes.
Survived, prospered and evolved to outlive most of our competitors.
So here we are, all these years later.
My dream to have a successful, well respected company filled with people I love to work with in an industry that both challenges and rewards has come true in so many ways. I still get up every day loving what I do, working with a great group of people and I am extremely proud of all we do for our customers, vendor partners, fellow employees and our families.
SmartPrint today is exactly what I'd hoped it would be when I excitedly signed all those legal papers back in 1987. I've read that only 4% of businesses survive past 10 years. For the past 30 years, we've put people ahead of the bottom-line and it's these relationships that continue to make SmartPrint grow and prosper year after year.
Thanks for a great ride, may the next 30 years be just as much fun as the last!
Tim Lomax, President