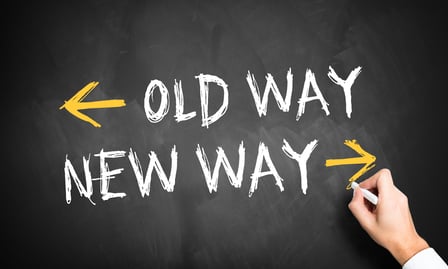 At SmartPrint our Managed Print Service (MPS) Consultants work with clients every day to help them improve their office printing environment. What's quite amazing, is that we consistently run into mid-sized companies and large enterprise organizations that on the outside look well organized, and I'm sure they are in core areas of their business, but frankly, their office print environment is almost always out of control. Nothing is more frustrating for users than an out of control print environment.
Here's a typical environment we see:
The IT help desk is overwhelmed with print issues, users are frustrated with devices that can't support what they need to accomplish; from an expense standpoint there are too many copiers (MFP/Ds) that are on expensive extended leases and are underutilized, and there are often printers in work groups and on desks that are over 15 years old. Finance management is asking what does all this cost, and no one knows. The print devices on the network can be huge security risks, and the person who is responsible to run the RFP for the copier upgrade is ready to lease new copiers that are also a security risk. IT management and the help desk want to get away from supporting the print environment and focus on core IT projects and keeping the lights (IT infrastructure) on for the users. Often the organizations think that this is just how it is. Well, it really doesn't have to be.
It's time to change! There is a better way! It's time to look at office printing-as-a-service and get out of owning and managing print hardware and software. You can ensure that users have what they need and that the print infrastructure is highly available, and managed as service. According to IDC by 2021, 45% of all office print device shipments worldwide will be sold as part of a printing-as-a-service contract. We've had this offering for a number of years and it is growing in popularity.
Another interesting prediction in the same analysis is that by 2021, 60% of MPS RFPs will include the provision of ongoing security auditing services of the print and document infrastructure. IDC is a very reputable firm in the global technology industry for market intelligence, so, it is very exciting for SmartPrint to already be ahead of the curve offering both MPS as a service, and print infrastructure security remediation and management as a service, especially when you look at what it could cost to deal with a cybersecurity breach. Further, IT World Canada recently published an interesting article about the potential vulnerabilities of print devices on the network and the cost of a potential security breach.
SmartPrint can easily take over the management of the whole environment through a proven, rapid implementation process; upgrade technology; implement important security software and other secure document processes, and workflow software, all while saving more than 50% over the current state costs! We can do this with no capital investment (as-a-service), and we can get companies away from the legacy equipment that is dragging down productivity in their businesses.
If it's time to clean up your print environment while saving money, freeing up IT headcount, resulting in happy users, it's time to do it with a printing-as-a-service program. If you can get out of ownership at half the cost, there is no barrier to entry. Also, through the same process, you can lock down your print infrastructure.