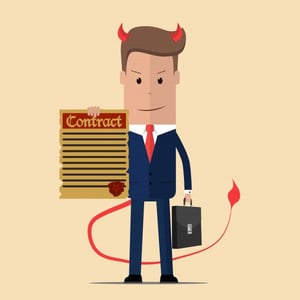 As many true Managed Print Services (MPS) companies will agree, a lease extension or equipment upgrade prior to the end of term is most often not a good idea from a total cost of ownership perspective. It's interesting that we have recently seen the following tactics from copier manufacturers.
1. We have seen them extend leases at low costs to keep machines that they manage in place with hopes of differing their customers' decision on going to market.
2. We have also seen them offer unsolicited proposals to try and get their clients to upgrade equipment with as much as 3 years left in their current lease commitment. There are some important things to think about.
Top 4 things to think about before approving the copier company's proposal:
1. Significant cybersecurity risks. Copier equipment typically has significant risk from malware attacks and as a network entry point for hackers; and almost all copier device brands (old and new) can't be managed with software tools that can support automating locking devices down from threats, remediating a cybersecurity attack if one happens, or reporting on potential areas of risk and cybersecurity activity.
Recommendations:
Dig deep, most of the manufacturers will assure you that their devices are bulletproof from cybersecurity threats. They aren't! No matter which brand there is always the risk from hackers, but there are some leading brands in this space that are many years ahead of the competition.
Deal with independent experts, independent MPS companies are services companies and should provide
recommendations for best in breed equipment, while taking cybersecurity hardware brand capabilities into account. If they can't explain how you are best protected (automated security profiles, reporting etc.) then keep looking for the right partner. On the other hand, when you deal with the manufacturer, the sales rep/dealer rep has one purpose, to sell as much hardware as possible; therefore, not necessarily in the best interest of the customer.
2. Early upgrades can cost your company dearly. If the copier manufacturer or reseller sold you on a 60
month lease and the equipment is already failing to meet the expected up-time for your users, then it is the
wrong manufacturer and partner. The early upgrade is typically positioned where they say they will make the
existing lease go away; in actual fact, they are always adding the remaining financial commitment of the old
lease to the new lease amount. Re-financing is not recommended!
Recommendations:
Do not replace failing equipment with the same brand of equipment. You will most likely be in the same
position in 36 months.
Find a leading MPS company to help you with short and long-term strategies to improve your office printing environment, which may include moving troubled device(s) to a lower volume area and getting them out of the environment when it makes sense.
3. What you had before is not what your users need today. Like for like replacements are usually not a good idea. A lot has changed since your company last upgraded copier hardware. It's time to look at the full office printing environment.
Recommendations:
Engage a trusted independent MPS company to assess your environment and recommend devices and
software that will improve your business's competitive edge with more efficient document workflow and lower total cost of ownership.
Be sure that your buying committee looks past historical brand preferences. As experts in this space, many of the biggest brands have not invested enough in research and development to build equipment and solutions that will keep your organization efficient and safe, now and in the future.
4. It costs more to run that old equipment. Extending an existing copier lease is the wrong decision. The old copier devices are typically more expensive to run, even with the cost of capital (whether leased or purchased) factored into the monthly operating cost. With printing and imaging devices it now seems to fall in line with Moore's law as related to the processing power and storage capabilities of technology that consistently doubles every two years.
Recommendation:
Find an independent MPS company that will recommend best in breed hardware that will last for the required term of your company's refresh plan.