SmartPrint is excited to share that they made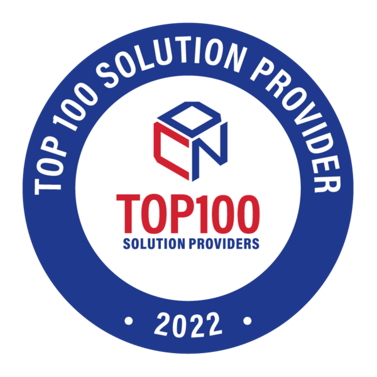 it to the prestigious Channel Daily News (CDN) Top 100 Solution Providers list, again.
Like the previous two years, the event was held again virtually and saw the release of the annual CDN Top 100 Solution Providers ranking, a listing of channel organizations that collectively generated more than $10 billion in revenue during 2021. The ranking is based on 2021 Canadian revenue figures provided by channel organizations between January and March 2022 in which ITWC makes every attempt to verify the numbers provided are accurate, and a $4 million minimum revenue was required to make the 2022 ranking.
There was considerable movement in the ranking prompted by the move to remote work, a push to cloud solutions in support of digital transformation, and a series of mergers and acquisitions.
"2021 was a challenging year. The whole SmartPrint team was busy creatively supporting our clients through supply chain issues that continue today. A lot of effort and focus in delivering great services were required to keep our clients up and running through the pandemic. Many of our clients in healthcare, manufacturing and distribution play critical roles in keeping Canada running in their respective areas, and our dynamic team of individuals stepped up to the challenge of ensuring that their print environments did not miss a beat. It's wonderful that our business had another successful and profitable year. And great to see that our clients have made it through the worst of the pandemic with a renewed focus on hybrid work plans and safely bringing their teams back to the office" said Rob Farrell, Vice President at SmartPrint.
"I am so proud of the entire SmartPrint team in navigating the challenges that the Covid pandemic has brought upon our business over the past 2 years. Together with our clients and vendors, we've managed through 6 Covid waves, government mandated lockdowns, work from home, hybrid, significant supply change challenges and rising costs. Throughout it all, we've been guided by our core value of Building Partners for Life to find creative solutions, be nimble and accelerate communication with all stakeholders for successful outcomes. As the world begins to open up again, we're looking forward to seeing clients live again and continuing our incredible journey" said Tim Lomax, President at SmartPrint.
"The release of the Top 100 Solution Provider ranking acknowledges the companies that are thriving financially, but we also wanted to shine a spotlight on innovation and new approaches. The Channel Innovation Awards are important recognition for companies, regardless of size, who develop breakthrough solutions, seek niche opportunities, and break new ground in serving partners and customers. Both are important recognition to support the channel" said Fawn Annan, CEO, ITWC.
About SmartPrint:
SmartPrint is the leading Managed Print Services (MPS) firm in Canada working with large corporate clients with 100+ employees to enable them to outsource the management of their office printing and imaging devices. The goal of our managed print services program is to drive down cost, maximize efficiency and secure the print infrastructure within our clients' organizations. Our vertically focused expertise provides custom-tailored solutions to each of our client's unique challenges.
SmartPrint helps clients gain control of their complex print environments by assessing, managing and optimizing print with a managed print service program that includes design, implementation, remote monitoring, onsite support, reporting, and device management. We use state of the art remote monitoring tools, systems and an advanced services/technical team to provide clients with industry leading uptime for their clients print environments. SmartPrint helps our clients implement simple, integrated software solutions that improve document workflow, security and overall user efficiency.
To find out more about SmartPrint, please explore our website: www.smartprint.com
For Press or Analyst inquiries please contact:
Rob Farrell
rob.farrell[@]smartprint.com
905.475.6177 x234