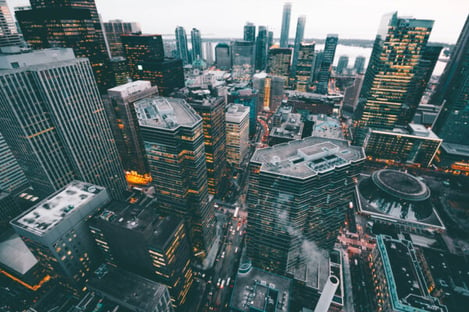 The downtown core in major cities across Canada is slowly coming back to life with many companies bringing employees back to the office 2 to 3 days per week. There are a lot of changes being made to office spaces to support the new hybrid workforce. There are updates happening in the physical office space, giving office workers more room while updating furniture in support of shared workspaces and creating more areas in the office for face-to-face collaboration. There's also increased investment in technology, both hardware and software, to ensure that users can productively work from anywhere. At SmartPrint, we have a lot of projects on the go to help our clients simplify printing in the office by updating and consolidating hardware as well as updating the print infrastructure.
Here are some of the areas to look at improving while updating the office print and copy environment:
The need for advanced security for your print infrastructure has increased

Implement software to automate device security configuration with vulnerability reporting capabilities

Implement print device firmware management services to ensure your fleet is secure and consistently updated to current firmware levels

Upgrade to print hardware that can sustain a cyber attack; some manufacturers are ahead of the curve in this area

Cloud print server – choose the correct option to ensure a successful transition

Ensure the tool you select can enable the use of advanced device functions like staple, hole punch, collating, etc.

Enable users to self-serve when connecting to an alternate, or new print device

Ensure that printing can be accomplished if your internet is down

Implement a tool that avoids the additional cost of connectivity to your cloud provider

Equipment consolidation

Reduce the number of devices and reduce costs

Reduce carbon footprint by using original supplies and implementing Energy Star certified equipment

Save real estate space

Increase end-user productivity by bringing powerful functionality closer to the user

Intelligent Workflow

Reduce paper and move to digital processes

Increase productivity dramatically (where there is paper there is inefficiency)
If you have any questions about print infrastructure security, cloud print server best practices or any other area of office printing equipment or print infrastructure, be sure to reach out to the experts. We would be glad to help bring the SmartPrint best practices to your business whether you are going to self-manage your fleet or engage our experts to support you.

Without central control of your print fleet, security settings are extremely difficult to manage, and entry points for cybercrime are more easily overlooked. It becomes even more complex supporting work from home employees and integrating equipment to workflow automation systems. Your IT team could be focused on configuration settings and authentication rather than working on other valuable IT projects or support. Encryption and authentication can be accomplished universally with an integrated automated security management tool. We've had great success with HP JetAdvantage Security Manager, ask one of our experts to share best practices in this area.