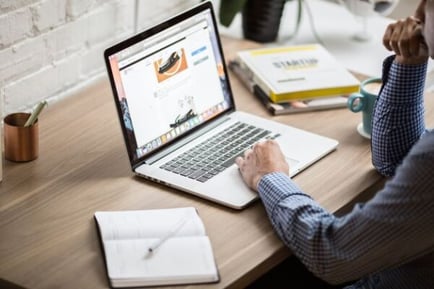 As we all know, in the last couple of years the number of hybrid workers has increased dramatically. I found some interesting data that supports the view that the hybrid work model is here to stay; 77% of remote workers show increased productivity (source), roughly 40% of Canadian jobs can be done from home (source), and companies that allow remote work have 25% lower turnover rates than those who don't (source).

The next challenge for businesses is to ensure that hybrid workers are integrated into their business workflows so that the speed of processing can increase, whether an employee is in the office or working remotely. It's never been more important for businesses to stay competitive and significant productivity gains can be accomplished by implementing automated digital workflow to transform your current manual business processes. If you can successfully deploy automated workflow the hybrid worker can be as productive in the office as they can while working from anywhere, and the remote and office team members that work together become seamlessly connected.
Top 5 business functions where workflow automation can easily improve efficiency:
Accounts Payable

Contracts Management

Procurement

Human Resources

Sales and Customer Service
Top 4 benefits of workflow automation:
Increase speed and accuracy – drastically reduce human error by automating error-prone repetitive tasks like data input

Data security with encryption – when the information and processes are digital, they can be secured and protected

Increase the speed of approvals – your business can move faster with approval integrated into the work process providing automated notification to the approving manager

Reduced paper - digital data capture of all related documents that are searchable
Businesses are now focused on learning about the best solutions to support moving to intelligent automated workflow so they can accelerate their business processes. If your business strategy is to become more productive with your current team by embracing a plan to achieve operational efficiency, reach out to talk to one of our experts.
Without central control of your print fleet, security settings are extremely difficult to manage, and entry points for cybercrime are more easily overlooked. It becomes even more complex supporting work-from-home employees and integrating equipment to workflow automation systems. Your IT team could be focused on configuration settings and authentication rather than working on other valuable IT projects or support. Encryption and authentication can be accomplished universally with an integrated automated security management tool. We've had great success with HP JetAdvantage Security Manager, ask one of our experts to share best practices in this area.