On August 21st 2018 at the ILTA (International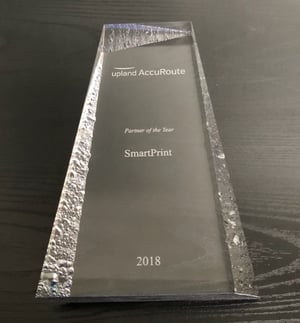 Legal Technology Association) event, held in National Harbor, MD, Upland awarded SmartPrint as "Partner of the Year" because of our successful efforts in developing and implementing creative, custom projects that engage and challenge the Upland team while improving our client's workflow. The SmartPrint Content Integration team, headed up by Chris Kirby, VP of Content Integration, works very closely with the Upland team to implement Upland AccuRoute software for secure document capture and routing to solve business problems and simplify business processes for the users.
The SmartPrint MPS Consulting team has been challenging our clients to innovate and streamline their business processes with intelligent and completely integrated document workflow solutions that power digital transformation. The simple results of these projects improve user efficiency, content retention/availability and intellectual property security through automation. A consequence of these solutions is often reduction of office printing, which also benefits the environment. The SmartPrint content workflow solutions team manage all aspects of our software solutions projects from solution architecture, proof of concept, through to implementation, user training and 1st and 2nd level support moving forward.
We are very excited to be recognized with this award for the second year in a row! Thank you Upland for your great partnership!
About SmartPrint:
SmartPrint is Canada's most recognized independent MPS provider, helps organizations make sense of complex print environments. SmartPrint's team of Managed Print Services (MPS) consultants leverage the markets best tools and systems offering best in breed office printing equipment and software to help simplify printing, scanning and document workflow. Our clients experience dramatic improvements in user efficiency, reduced costs of 30% to 50%, reduced helpdesk calls by 25% and significant administrative efficiencies through vendor consolidation. SmartPrint's solutions are not about printers and copiers, they're about people.