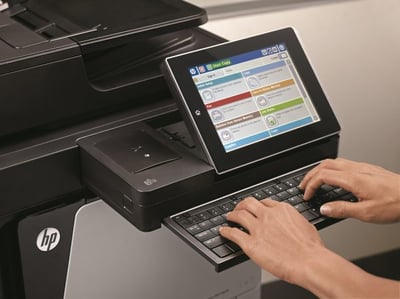 Using the Upland AccuRoute solution, users can flow important business documents of all types internally and externally to support automating business processes. The AccuRoute Web Apps allows users to build new business process automated workflows quickly and efficiently. Workflows can easily be integrated to support the distribution of content through to business applications like ERP software, Document Management, and Records Management software, as well as simple working groups or destinations like network folders, printer devices, fax, email and basically any other destination you can imagine.
Working with an AccuRoute Integrator
When working with an AccuRoute integrator, the application can be integrated with your existing network office printing devices to enable a distributed content capture strategy so the solution can be pervasive across the departments and location of your organization. AccuRoute allows you to capture the content from paper-based documents, convert to digital and flow through to complex workflows. With smart consulting to transform workflow, a user can place paper-based documents in a scanning device or use a multi-functional printer, touch the screen to select the appropriate workflow and they are done. The automated business process takes over and finishes all of the tasks.
All of your business content can become available across your organization. Documents can be converted into your required format, the file size is compressed, metadata can be extracted, the solution can work with and read barcodes, and all workflows can be integrated into your back office software. The solution can scale to support the largest enterprise, but also works well in mid-sized organizations. Once implemented it provides a bullet-proof business workflow platform.
This solution can enable workflow of any file format with complete security. It integrates with all leading document/content management and archive systems and when the document gets to its destination, we can ensure that it is fully searchable so no content is lost.
Three key values of the AccuRoute solution
Extract content easily

Convert business content from any source, whether the current format is digital documents, paper, digital data streams like fax, email, or other applications into secure and useful business content.
Automated workflow getting your content to the right place

All documents are captured, analyzed, and delivered to the correct destination and/or recipients.
Searchable and safe content storage

Ensure compliance requirements are met and secure your content with logging, backup and data loss prevention.
How does this all come together? Your office printing devices are the on-ramps and off-ramps of your organizations content. Your Managed Print Services experts can be the integrator to help build a digital workflow that makes your business more efficient and more organized. On another very important note, given that your content can be sensitive client information, intellectual property, critical business information etc., ensuring that your print devices are secure is extremely important. A lot of sensitive data is flowing through the print devices. Also, scanning capabilities and open architecture to support simple integrations are important. We recommend HP enterprise print devices because of their superior security and scan workflow capabilities with their patented Flow MFP and scanning devices.
SmartPrint has helped companies in all verticals implement simple integrated scalable and powerful business process workflow solutions to make businesses go faster.