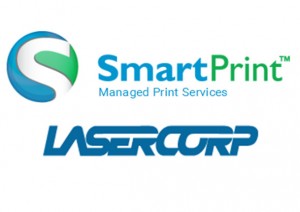 Toronto, Ontario, Canada January 19, 2016 -- SmartPrint Inc., Canada's leading independent MPS (Managed Print Services) firm, announced today, that it has acquired LaserCorp's Toronto MPS practice.
"This is an exciting development for our Toronto based clients, who will now be able to leverage SmartPrint's broader portfolio of hardware and software solutions." said Eric Black, President, LaserCorp Inc.
"We are extremely excited to support LaserCorp's clients and believe we can help take their organizations to the next level of efficiency and cost savings." said Tim Lomax, President, SmartPrint Inc. "Since 1990, LaserCorp has been providing white glove MPS service for professional services firms throughout Toronto's downtown core. LaserCorp clients will join SmartPrint's rapidly growing list of Canadian clients in the professional services sector. To facilitate a smooth transition, LaserCorp's complete technical services team will be joining SmartPrint."
This strategic acquisition of over 100 mid-market professional services clients (legal, finance and accounting) affirms SmartPrint as the leading independent experts in Canada's Managed Print Services marketspace.
"Our vision is to help clients make sense of complex printing and imaging environments by engaging our team of experts to analyse their environments and provide solutions that will deliver a competitive advantage." said Rob Farrell, VP Sales and Marketing, SmartPrint Inc.
"Both companies have been dedicated to ingenuity, high customer service levels and integrity. SmartPrint's focus, expertise and proven processes provide Canadian clients with opportunity to embrace the rapid shift towards managed IT services."
About SmartPrint Inc.:
SmartPrint helps organizations make sense of complex print environments. SmartPrint's team of managed print services (MPS) experts leverage the markets best tools and systems, and as Canada's leading MPS independent, offer best in breed office printing equipment and software to help simplify office printing, scanning and document workflow. Our clients experience dramatic improvements in user efficiency, reduced print costs by 30% to 50%, reduced helpdesk calls by 25% and significant administrative efficiencies through vendor consolidation. As Canada's leading independent MPS provider, SmartPrint's solutions are not about printers, they're about people.
For Press or Analyst inquiries please contact:
Rob Farrell
rob.farrell@smartprint.com
905.475.6177 x234