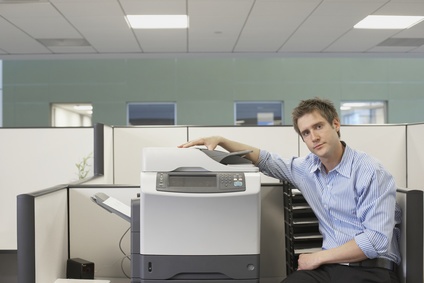 What are office printing best practices? From SmartPrint's perspective, it is putting the right technology in the right location in the office to give the users the functionality and options they require to be efficient. All of this while ensuring that the recommended group of devices are optimal from a cost perspective.
Putting the right technology in the right places is a crucial part of office print best practices. Getting it wrong can increase costs dramatically. Additionally, users may not have the tools they need to do their jobs. Think about how effective a carpenter would be with a saw that takes him ten times longer to cut a piece of wood. How frustrating would this be? Then, think about a busy office worker that has to use a device with inadequate speed that needs repair often and doesn't provide scanning capabilities so they have to walk 200 feet to scan an important hard copy document to convert it to a PDF.
Printing Centralization – Is it the right choice?
We consistently see copier manufacturers in the Canadian market trying to sell office printing centralization, but putting a few big expensive devices into an organization to capture all of the pages rarely supports the users' needs. It can potentially reduce overall office printing costs short term, but many times has the effect of making users less productive. This isn't inline with office printing best practices because footsteps cost money.
Time and time again, our SmartPrint consultants run into organizations that have been centralized in the past by a copier manufacturer's sales person. What they typically find is that users' needs were not being met so many of the smaller print devices that were close to the users were plugged back in or new ones were purchased by individual departments.
As a result, the great financial plan to centralize on a big low cost per page device has been completely lost. Also, the expensive lease cost of that big, centralized copier is higher than the rest of the printing for the entire office and is completely underutilized.
Why does this happen? It might be that the organization didn't have a well thought out strategy for office printing. They choose to work with a manufacturer vendor whose job is to make sure their brand is the only brand sold so they can maximize revenue and keep the assembly line busy.
Vendor-Neutral Print Experts to Recommend the Right Devices in the Right Places
The real solution here is that it takes a vendor-neutral expert to provide a balanced deployment of equipment because, to satisfy the needs of different users and departments, there is typically more than one brand of hardware required for the entire print environment to run optimally – both for user experience and cost. There are hardware manufacturers that make very good large copier style devices with open architecture and state of the art technology that enables very high up-time and functionality. There are other manufacturers that build highly efficient and versatile small and mid-sized devices that can be placed close to the user groups to enable efficiency with all the required functionality and high up-time.
If the right small and mid-sized devices are correctly placed, they are often very close to the same operating costs as the large centralized units and have a much lower price tag. The right balance of equipment can make a significant difference in the total cost of ownership if your managed print services partner has the print environment expertise that understands office printing best practices.
Keeping an Eye on Hidden Print Manufacturer Future Costs
Recommending best-in-breed print equipment for each required category to support the users ensures a low total cost of ownership (TCO) long term. There are manufacturers with limited market share that make good devices but with limited market share in a category, the supply chain for consumables and replacement parts can be a challenge.
This situation leads to significant price increases year over year because of the lack of supply in the market place. Some print device manufacturers release new hardware devices each quarter, making very subtle changes to devices while changing the consumable SKUs and repair parts so that, in the future, they can increase supply items and make more profit long term. The strategy of releasing new hardware also protects the manufacturer from aftermarket consumables taking their long term profit away.
However, the challenge is that none of this is good for the end user; it results in complexity and increased cost.
Independent MPS Experts Protect Organizations by Implementing Office Printing Best Practices
Working with an independent managed print services (MPS) expert can protect organizations from these challenges because they know how to implement office printing best practices. You can get the right best-in-breed brand of devices in the right places. Best-in-breed print devices will protect against future price increases and a balanced deployment will enable users to be efficient and effective while providing the right blend of total cost of ownership and user productivity.