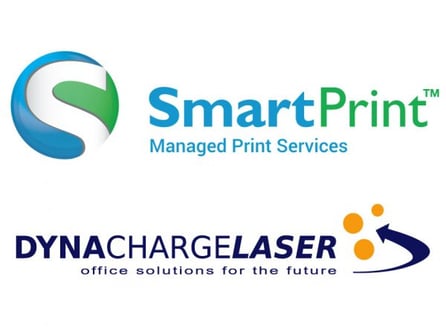 [Toronto, ON, Canada] - [March 23, 2017] - SmartPrint Inc., Canada's award winning, independent Managed Print Services firm, announced today that it has acquired DynaCharge Laser Inc. in Montreal, Quebec.
"We are thrilled to welcome DynaCharge's clients into the SmartPrint family. We're excited to help take their organizations to the next level of efficiency through improved document workflows and more cost effective and highly secure office printing environments." said Tim Lomax, President, SmartPrint Inc. "Since 1989, DynaCharge has been providing custom-tailored, high touch service to their clients across Canada. We've had a close working relationship with owners Doug and Wayne McGurk for over 20 years, and share their passion for delivering an outstanding client experience. DynaCharge will continue to operate as a wholly owned subsidiary of SmartPrint, led by Wayne and his existing staff. We wish Doug a long, well-deserved retirement."
"This is a game changer for our Quebec based clients, who will now be able to leverage SmartPrint's deep expertise in Managed Print Services, their Tier 1 equipment portfolio partners, and suite of best in breed software solutions." said Wayne McGurk, President, DynaCharge Laser.
The strategic acquisition of DynaCharge extends SmartPrint's existing footprint in Quebec and affirms SmartPrint as the leading independent Managed Print Services experts in Canada.
"Our vision is to help clients rethink how paper and digital content flows through their organizations by engaging our consultants to analyze their environments and provide solutions that will reduce waste and deliver a competitive advantage," said Rob Farrell, VP Sales and Marketing, SmartPrint Inc.
"Both companies have been dedicated to ingenuity, superb customer service and integrity while SmartPrint's focus, expertise and proven processes provide Canadian clients with the opportunity to keep pace in today's digital, mobile world." said Chris Kirby, VP Content Integration, SmartPrint Inc.
About SmartPrint:
HP's Print Partner of the Year, SmartPrint is Canada's most recognized independent MPS provider, helping organizations make sense of complex print environments. SmartPrint's team of Managed Print Services (MPS) consultants leverage the markets best tools and systems offering best in breed office printing equipment and software to help simplify printing, scanning and document workflow. Our clients experience dramatic improvements in user efficiency, reduced costs of 30% to 50%, reduced helpdesk calls by 25% and significant administrative efficiencies through vendor consolidation. SmartPrint's solutions are not about printers and copiers, they're about people.
Find out how Managed Print Services can benefit your business or contact us to speak with one of our MPS experts.
For Press or Analyst inquiries please contact:
Rob Farrell
rob.farrell[@]smartprint.com
905.475.6177 x234