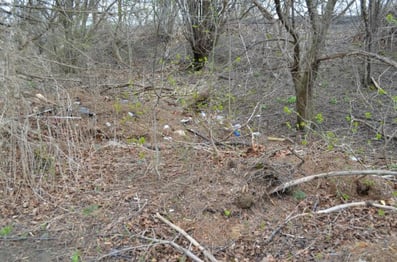 [TORONTO, ON] – [April 27, 2017] At 2 pm on Friday April 21st, SmartPrint team members James Dunn, Steven Ryan, Carolyn Allum, Andrew Thompson, Darren Ranney, Trisha Kosak, Karey Ross, Mike Hishon, Jen Infuso, and Mike Rutledge participated in a Corporate 20-Minute Makeover, which was a cleanup run in conjunction with the Clean Toronto Together campaign aimed at creating environmental awareness and involved cleaning up a space in need such as a laneway, ravine, sidewalk, or parkette. The idea was to see how much cleaning could be done in 20 minutes.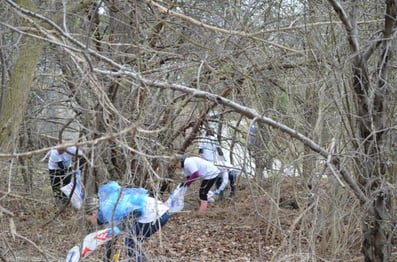 According to an email received by James Dunn, Demand Generation Manager, this year marked a record for the City of Toronto as more than 200 businesses registered before the April 11th deadline and was the biggest corporate cleanup day ever!
James Dunn at SmartPrint came up with the idea:
"I've had a strong desire to help give back to our community, and with other activities taking place around this time of year to be environmentally conscious, it got me thinking about helping the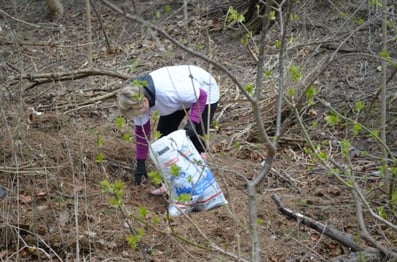 environment more and to do something different as a team to take immediate action to clean our environment. I then came across the Corporate 20-Minute Makeover event, and suggested it to other team members who all felt as passionate as I did to pitch in and help clean our environment."
Steven Ryan, Client Services Manager helped run the campaign by designing custom T-Shirts for the cleanup, and took photos of us in action. Janine Marais, Service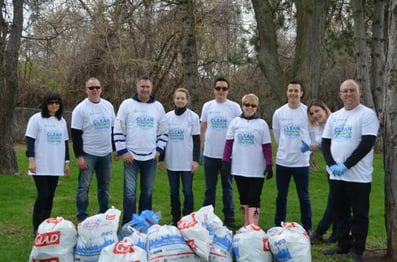 Delivery Coordinator and Darren Ranney, Operations Manager helped organize the lunch to ensure we were full of energy before heading out.
Upon registering for the event, the City sent out garbage bags, recycling bags, nitrile gloves, and provided safety and recycling information, as well as posters to help promote the cleanup.
Careful consideration was given as to the best place to do the clean up and Leaside Spur Trail in Toronto was
the chosen area based on the considerable amount of garbage present there.
Dunn continued:
"It was awful, there were baseballs, plastic bottles, empty cigarette packets, glass bottles, coffee cups, plastic bags, pop cans and many other pieces of garbage in urgent need of cleaning up. It's such a shame that such a beautiful trail could be marred by these eyesores."
At the end of the 20 minutes, 9 bags of garbage, and 2 recycling bags were collected. Everyone was amazed at what was accomplished in such a short amount of time. The bags were then disposed of carefully in Bond Park bins.
Overall, everyone felt it was great to have been able to give back to our community and we look forward to participating in Corporate 20-Minute Makeover again and contributing to other social responsibility causes in the future.