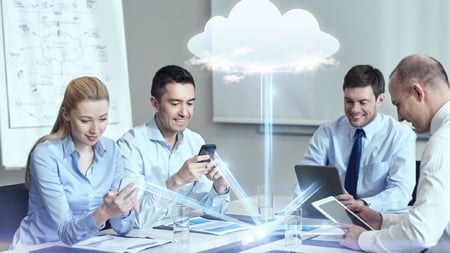 Connecting with teams around the world has never been easier with the help of document
processing services and cloud connectivity. As teams begin to expand, and more and more businesses are adopting a hybrid work model, opportunities have been presented for once local organizations to work with exceptional people around the world. This can be anything from connecting with other companies or bringing on new team members who are located in other
countries. As these teams start to blend together, they'll begin to rely more on technology to help
them communicate more effectively.
Technology companies are now recognizing the growing need for tools that can better connect such teams. Things like workplace automation are being used for less labor-intensive tasks, freeing up time for teams to get together on Zoom meetings and work on collaborative projects. Beyond this, innovative functions are now being added to devices like printers that nurture this growing creativity in the workplace. This includes document processing services, translation tools, and better cloud connectivity features that will keep your teams collaborating wherever they may be located!
How do Document Processing Services Work?
Since there's now much more flexibility in the workplace for teams to work out of their own home offices, it can be a bit challenging to get important documents into the right hands. There are cybersecurity concerns, but there's also the fact that many businesses still rely on physical documents to get jobs done. It's not always feasible to pass documents back and forth between team members, especially if their home office is located far away from your central hub.
That's where document processing comes in! You can convert your physical forms into digital documents. These newly converted files can even replicate the original layout of your document, making it easier for your team members who don't have access to the physical document to maintain consistency in workflows.
By having your physical document replicated over into a digital format, your team can:
Reduce errors while processing documents.
Better review documents.
Improve team collaboration in a hybrid setting.
Document processing also helps to automate some of the more time-consuming tasks, improving the efficiency of your business.
Translating Documents with Document Processing Services
One of the most important things you'll need if you're looking to expand your business's reach globally is an exceptional translation tool. Along with converting your documents into a digital format, there are also many useful document translation services you can choose from through your document processing services. This gives your team a better chance to strengthen communication internally and with international clients.
Just like with the digital documents that are converted into digital files, there are also document processing services that can translate entire files for you. You also don't have to worry about anything getting "lost in translation" or missed, since the translated files will keep the same layout and format as the original document (just like your converted files!) This means that no matter who is looking at the document, or what language they're reading it in, everyone will be reviewing the exact same content.
Did you know: There are even functions now on some MFPs that allow you to translate text automatically as you're copying files using your MFP.
Grow Your Business with the Help of Managed Print Services
Digitally converting files and translating each document on your own can take time away from other important tasks. That's where outsourcing to a team of print experts comes in! You can take the stress off your team's shoulders without losing out on the benefits of document processing. Setting your team up for success doesn't have to mean sacrificing time out of your day.
The SmartPrint team is happy to help you convert your files, learn more about document processing services, and ensure your team is better connected. Whether it's file conversion, automated translation services or cloud-based managed print services that you need, we're here to support your business and help you expand its reach.
Have questions about document processing? Contact us today to learn more!

Without central control of your print fleet, security settings are extremely difficult to manage, and entry points for cybercrime are more easily overlooked. It becomes even more complex supporting work from home employees and integrating equipment to workflow automation systems. Your IT team could be focused on configuration settings and authentication rather than working on other valuable IT projects or support. Encryption and authentication can be accomplished universally with an integrated automated security management tool. We've had great success with HP JetAdvantage Security Manager, ask one of our experts to share best practices in this area.