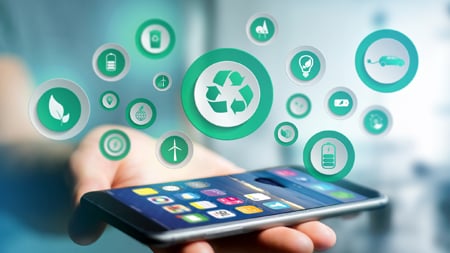 Did you know that setting sustainability goals in your office will help improve your business? Many are starting to make active changes to promote more environmentally friendly office habits, reduce their overall footprint, and gain more customers. If you're not sure when the right time to start is, we can tell you that it's now!
Reports have found that customers are inclined to work with companies actively making green choices. Nearly one in three claim that they had stopped buying certain brands because of ethical or sustainability concerns (Deloitte). Another found that 57% of consumers would change their buying habits if it meant reducing their negative impact on the environment (IBM).
While many people have started adopting sustainable habits in their home lives, it's time to start putting them to practice in the workplace! Your team can start by getting creative and thinking of ways you can reduce waste, improve current business practices, and support one another in meeting your goals.
With clients and investors both wanting more transparency and stronger green initiatives from businesses, it's time to make changes. Here are ways team leaders can promote sustainability in the workplace.
Switch to Energy-Saving Technology
Conserving energy is one of the best ways your business can make positive environmental changes. Switching over to more eco-friendly technology is the first step to achieving this. While it might seem like a costly venture at first, it can actually save your business money. Monthly energy bills can easily get out of control. One company assessed that the average monthly bill in the United States was about $647.61 (Constellation). This number can fluctuate depending on your business size, with smaller businesses paying a bit less and larger organizations paying much more.
By switching to energy-saving technology, you'll have the flexibility of putting more money behind other investments. Long-term, this pays off both economically and environmentally. It's a win-win situation all around.
Turn Non-Essential Devices Off at Night
Your team should ensure that all non-essential devices are powered off for the night. Before everyone heads out, check to see that all computers are shut down, lights are turned off, and that your office printer is in power-off mode.
Worried that your team is too busy and might forget? When you choose energy-saving technology, you'll get features that turn off your devices for you automatically! There are lots of printers out there, for example, that come with automatic power down settings. By doing this, you could save even more on energy bills.
Make Greener Brand Choices
Your business should consider switching to a brand that has open and honest sustainability goals. Remember that as a company, you're also a consumer. Choosing the right brands to support is important when working on your overall eco-friendly goals.
Align yourself with companies like HP, who release reports that outline in detail what their main sustainability goals are. This will help your team make informed decisions before purchasing. Some of HP's goals, for example, include becoming the world's most sustainable and just technology company by 2030 (HP). They also further laid out their three main areas of focus: climate action, human rights, and digital equity. HP detailed the goals they have for each area and their hopes that they will further promote sustainability among all businesses.
Whatever your brand choices are, check that their goals align with yours. You might even come across some new ideas on how your business can make changes. Even the small things can make a big difference in the long run!
Looking for advice on sustainable business practices? Our experts are happy to help. Reach out today to learn more.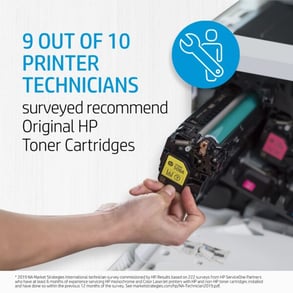 Sometimes what looks like savings can turn into a hassle. If you are running aftermarket supplies in your print devices, reach out to see how we can help to convert you to OEM. We typically find that we can help our clients make the change to OEM without impacting the total cost of ownership and the monthly operational cost to run the print environment. If you are currently running OEM supplies and are thinking about trying aftermarket supplies to try and save some money, there may be a better way to save! Reach out to talk to one of our MPS experts.

HP OEM supplies provide the confidence you can rely on for everyday printing. HP is committed to the environment by using recycled materials in new cartridges and offering a free recycling program from one of the 100 most sustainable companies in the world. Supplies also meet eco-label emission criteria to help maintain the air quality. Trust is also provided from the packaging to the chips to use supplies that protect your printer and your data. Lastly, peace of mind is provided in knowing that you are using HP OEM supplies.