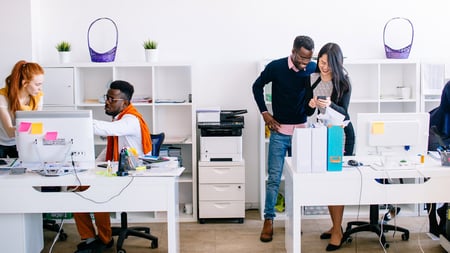 When it comes to managed print services, enterprises need specific solutions that will help them better connect with their customers and the public. As a member of an enterprise, you work directly with consumers. You'll know well that because of this, enterprises have unique needs compared to government or healthcare institutions.
The goal of an enterprise is to engage with their consumers and create memorable products and marketing campaigns that will improve the lives of their customers. At any given time, team members working for an enterprise are likely juggling several different tasks at once. From quality control to public relations, your team is no doubt busy with their day-to-day tasks. Outsourcing some services, such as the management of your print fleet, can really help take some of the load off your team members' shoulders.
Large, enterprise organizations need tools that will simplify processes while also improving the output of their products and marketing. Luckily, managed print services can help with that. To assist business leaders and teams better understand how managed print services can help them, we've put together this list of the top five benefits of managed print services for an enterprise!
1: Consistent Consulting for Print Device Optimization
New print devices are released every year, and with your team's busy schedule it's likely hard to keep up with what features have been upgraded. That's where managed print service consultants come in. They can work with your team's decision makers to choose the best printers for your enterprise's needs.
Managed print experts, such as those found at SmartPrint, will assess, manage, and optimize your print environment. As your printers are indispensable for the completion of tasks and connection with customers, it's imperative that you equip your team with the right devices.
Not only will the device you need depend on the paper output of your company, but also on the needs of your team depending on where they're stationed. Take your head office building, for example. A consultant can select the best device on the market that has quicker paper output and superior scanning capabilities to support your corporate team's efforts.
Consultants will also know that your team members working directly with customers could benefit from improved cloud and mobile print options.
Whatever the needs of your team, having consultants well-versed in the print industry there to support you is an essential asset!
2: Steady Flow of Supplies
With the busyness of daily tasks, pressing deadlines, and attending to the needs of your customers, your team won't have much time in their day to check on the supplies levels of your printers. This can result in two things: your team running out of ink or paper at a crucial time or them overstocking on supplies that will go to waste.
To keep this from happening, managed print service experts will assess your print needs and monitor your supply levels. They can receive alerts when it's time to order new supplies and acquire the inks, toners, and paper that you need at a more opportune time for your business.
3: Create a More Sustainable Workplace
On average, it was shown in the past that each office worker printed 10,000 pages every year (United States Environmental Protection Agency, 2013). Over the last decade, those numbers have been on the decline, with businesses everywhere taking a more sustainable approach to their practices. To help them fight back against excess paper waste (and the wasted supplies we mentioned earlier!) enterprises have begun to seek out the services of managed print experts.
Managed print services will include a complete review of your print environment, which means taking a closer look at how many pages your team is printing and ways this can be reduced. Not only that, but by routing print jobs to the optimal printer for the task, you'll also be eliminating excessive power usage and shrinking your carbon footprint.
4: Supporting the Productivity of Your Team
There are many benefits of working with a managed print expert for every organization, but for enterprises specifically the support that managed print offers can translate directly into more sales. This means more money for your business and a quantifiable return on your investment.
Matching your team with the right tools to get the job done is essential. As we mentioned before, by working with a group of managed print service experts, you can better guarantee finding the perfect device. But did you know that a managed print expert can also perform some of the tasks your team would otherwise have to do?
Things like restocking your print supplies, reviewing your print environment for areas of improvement, and ensuring that device software is properly upgraded are all usually the responsibility of your direct team members. When you work with a managed print services provider, they can handle these responsibilities for you!
Knowledgeable print experts will be there to complete these tasks so that your enterprise can focus on customer relations and marketing efforts. This will help improve the overall productivity of your team and optimize your workflows, as there will be fewer tasks demanding their attention.
5: Opportunities for Automated Processes
Speaking of optimizing your workflows, by teaming up with managed print experts, you'll also be gaining insight into how your current processes can be improved with automation. With upgraded technology and superior supplies management, your team will be in a better position to consider other methods of streamlining your services. One such way is to integrate automation into your existing processes. Through managed print, you'll gain access to new tools that can be incorporated into your current print practices to make them better.
With SmartPrint, we offer our SmartPrint 360 bundle which incorporates all the benefits of managed print under one single monthly bill. This includes finding ways to automate and integrate your business's workflows.
At the top of the print automation list is cybersecurity. With our services, we offer 24/7 monitoring with automated reports and alerts that will notify you of any potential risks and suspicious activity. For enterprises, this means protecting valuable customer data and creating a more reputable business that your community can trust.
Learn more about these five benefits and more by speaking with one of our print experts today!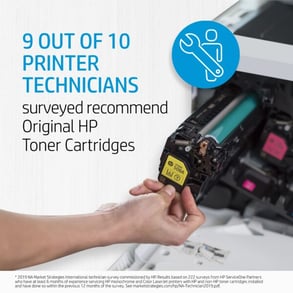 Sometimes what looks like savings can turn into a hassle. If you are running aftermarket supplies in your print devices, reach out to see how we can help to convert you to OEM. We typically find that we can help our clients make the change to OEM without impacting the total cost of ownership and the monthly operational cost to run the print environment. If you are currently running OEM supplies and are thinking about trying aftermarket supplies to try and save some money, there may be a better way to save! Reach out to talk to one of our MPS experts.

HP OEM supplies provide the confidence you can rely on for everyday printing. HP is committed to the environment by using recycled materials in new cartridges and offering a free recycling program from one of the 100 most sustainable companies in the world. Supplies also meet eco-label emission criteria to help maintain the air quality. Trust is also provided from the packaging to the chips to use supplies that protect your printer and your data. Lastly, peace of mind is provided in knowing that you are using HP OEM supplies.