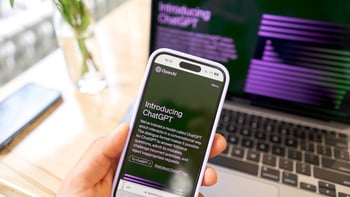 ChatGPT is a versatile tool that can be embraced by businesses in all fields. It can help your team members complete a variety of tasks efficiently. While there may be hesitancy among your peers to use AI, it's important to talk as a team and decide what solutions you all feel comfortable engaging with, such as ChatGPT. It could be that there's room for improvement in your current workflows, which AI can help with.
Openly discussing the benefits and concerns of using ChatGPT with your team is essential. Here are ways that AI solutions can help improve communication and optimize your work output.
Uses for ChatGPT in Customer Service Industries
Emails are an important part of customer service for many businesses, especially those with e-commerce! In fact, one report found that 83% of respondents said they preferred using email to correspond with businesses (Send Grid). If on average it takes 2 minutes to respond to an email, but you get upwards of a hundred emails before lunch, that means that it could take 3.3 hours just to respond to all your emails. That time won't include telephone correspondence or in-person discussions with team members.
Your team could use tools like ChatGPT to shorten the time it takes to respond to emails. Correspondences can be produced quickly, as the solution can assist you in figuring out professional wording and bettering your initial response.
Make sure your team reviews and corrects the generated text, though, to ensure you're further personalizing your emails to maintain a strong relationship with customers.
Create Better Presentations with ChatGPT
If your team creates a lot of presentations for conferences, internal meetings, or sales pitches then using ChatGPT can help bring in new ideas to your projects. It can be easy to fall into patterns of behaviour when working creatively––there may be a word you just really like, or a turn of phrase you can't seem to shake off. This can create stale and repetitive content for your audience.
To reinvigorate a project that you feel is overly similar to one you've done in the past, you can ask ChatGPT for assistance. It can help create a template that you can work off of, introducing you to new ideas and ways to word things you've previously discussed.
Get Creative Guidance from ChatGPT
The creative tasks are the ones that are most engaging, fun, and rewarding for your team members. It's important not to totally disrupt this process. But one thing is universal for creative projects––sometimes they stall. We all have our good days and our bad days. On the good days, sitting down and plugging away at a creative task can be fun. On the bad days, it can be grueling and exhausting. That's where ChatGPT and other AI solutions can help.
While they shouldn't be used as a creative crutch, they can tease out an idea that you've been stuck on for a while. Projects such as blogging require a lot of research and patience. By the end of the writing process, you might feel a bit burnt out. Then comes the task of naming your blog. But you've used up all your creativity on the blog itself.
Luckily, ChatGPT can generate a list of helpful blog titles that you can pull from. See something there that sounds great but doesn't work for your current blog topic? Use it as a jumping off point for creating an entirely different blog!
Reach Out for Help Implementing AI and Digital Workflow Solutions
Just like with workplace automation, harnessing the power of AI solutions will boost the productivity of your team. The potential is almost endless, with many big companies racing to better the systems already in place. Businesses are no doubt going to find innovative ways to introduce AI into their processes. Your team can start improving your workflows by digitizing and automating work processes in many of your departments and embrace the power of AI solutions with SmartPrint's help.
Looking to improve your business's workflows and embrace AI? Our team of knowledgeable experts can offer you guidance. Reach out today to learn more.

Without central control of your print fleet, security settings are extremely difficult to manage, and entry points for cybercrime are more easily overlooked. It becomes even more complex supporting work from home employees and integrating equipment to workflow automation systems. Your IT team could be focused on configuration settings and authentication rather than working on other valuable IT projects or support. Encryption and authentication can be accomplished universally with an integrated automated security management tool. We've had great success with HP JetAdvantage Security Manager, ask one of our experts to share best practices in this area.