Managing your print fleet has never been easier
with the latest in predictive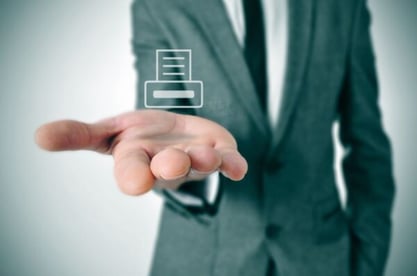 managed print services. With new cloud print tools, your printer fleet can be monitored from everywhere at any time. If your MPS provider has advanced predictive service capabilities these tools allow your MPS provider the ability to take a proactive approach to managing your devices. Cloud-based MPS can now predict with better accuracy when your toner is running out or when your devices need service. Not only will this alleviate stress for your team, but it will also remove interruptions to your workflow. So how does predictive managed print work?
How Predictive Managed Print Works
Using AI, Big Date and the cloud, predictive managed print tools will learn your print fleet's history and that of other similar models. It will then calculate and predict when you'll need new supplies, monitor your system for any possible errors or malfunctions tapping into sensors in the equipment, and your MPS partner can deal with the issue as soon as possible to repair or update a device prior to your users experiencing downtime. This will not only save your team time but also money!
Saving Money with Predictive Managed Print
Without managed print, your team is left to guess when they should stock up on supplies. You run the risk of buying too much ink or toner for your print needs, which could cause both excessive waste, loss of money and dollars wrapped up in supplies inventory. Not only that, but your team could wait too long before placing their order. This would set you back on deadlines and completing important tasks. With predictive managed print, your team could be reducing costs by 30% - 50%, all while optimizing your printing practices to ensure better productivity.
Predictive managed print will:
Efficiently alert your provider to any device errors
Reduce costs for supplies
Increase your team's productivity
Effectively manage your print supplies inventory or just in time shipments
Eliminate print-related workplace interruptions
These cloud-based tools will enable predictive support for service and supplies increasing uptime to help your team work smarter and faster.
Alleviate Stress for Your IT Team
IT teams are currently facing unprecedented levels of stress. These teams are having to stay up to date on all the security and functionalities of not only an entire office but now all the home networks attached to them as well. The last thing you'll want to do is pull your IT team away from important security related tasks to manage a malfunctioning printer. Predictive managed print can keep this from happening!
If you have an MPS partner using predictive managed print tools they will help your team stay ahead of the game by using their alert systems to intervene before there is an issue whenever a device needs maintenance or supplies support. This proactive approach will keep your print flowing and your IT team free to focus on more pressing tasks.
SmartPrint uses predictive MPS tools and services to support our customers with all their print needs. Our team believes that approaching print from a predictive and proactive stance will help our clients see greater efficiency gains and lower costs. Reach out today to learn more about how managed print can benefit your team!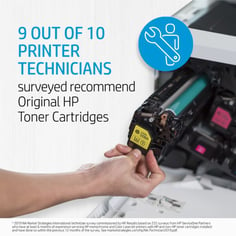 Sometimes what looks like savings can turn into a hassle. If you are running aftermarket supplies in your print devices, reach out to see how we can help to convert you to OEM. We typically find that we can help our clients make the change to OEM without impacting the total cost of ownership and the monthly operational cost to run the print environment. If you are currently running OEM supplies and are thinking about trying aftermarket supplies to try and save some money, there may be a better way to save! Reach out to talk to one of our MPS experts.

HP OEM supplies provide the confidence you can rely on for everyday printing. HP is committed to the environment by using recycled materials in new cartridges and offering a free recycling program from one of the 100 most sustainable companies in the world. Supplies also meet eco-label emission criteria to help maintain air quality. Trust is also provided from the packaging to the chips to use supplies that protect your printer and your data. Lastly, peace of mind is provided in knowing that you are using HP OEM supplies.