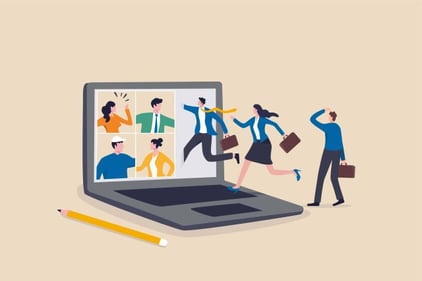 Creating a work strategy that will enable your hybrid team with printing, scanning, and workflows is now easier than ever before! There are several devices and software tools on the market that can ready your team to work more collaboratively, wherever they may be. The hybrid work model doesn't mean eliminating your current work processes––rather, it means your team has the chance to review and reorganize together to meet the needs of everyone.
Did you know that paper-based processes are still just as important as ever? Almost 80% of people working from home say they're printing the same or more (HP). This means that you'll need to set up effective printing, scanning, and workflow processes that will keep your team connected. Combining both digital and paper-based work will give all members of your team the flexibility they need to work more productively.
Mobile Printing and Scanning is Necessary for Hybrid Teams
Having a printer and scanner that can receive mobile print jobs and digital documents will increase the productivity and teamwork of everyone in your office. With more and more team members working remotely, it's essential that your printer can receive mobile documents. You don't want to be stuck waiting on a team member to bring a paper document into the office.
While having home office printers can keep your teammates on track and organized with their own day-to-day tasks, it shouldn't be the only way documents are passed between your team. This can be a serious bottleneck for your company. Instead, choose devices that allow for cloud and mobile printing and scanning. This will make handing off documents between your team much easier and keep everyone working productively!
To better equip your workspaces with more secure, efficient, and productive print you should consider getting the support of a managed print service team. Not only will this help your team better perform their tasks, but it will also save your team money and give you detailed insights into the print needs of your hybrid team.
Digitization Brings Hybrid Teams Together
Worried that information will get lost in the shuffle of papers? Consider automating business workflows and digitally transforming your business! One study found that 88% of organizations are already using cloud infrastructure in some form (HP). Connecting to the cloud can make the passing of documents between your hybrid team faster and more secure. Physical documents could get lost or forgotten between offices. But with scan-to-cloud apps on smartphones and advancements being made in workflow automation, digitization has become easier than ever.
Equipping your hybrid team with workflow automation will help to simplify tasks, decrease stress, and more effectively pass documents between remote work offices and your main office. Digital workflows and workflow automation take the more menial burdensome tasks off your team members' plates and help them focus on more engaging and collaborative work.
Creating processes by which your team can better collaborate between offices is especially important! Employees will work 15% faster and work through more challenging tasks up to 64% longer when they're collaborating (Deloitte). Digitizing and automating simpler workflows will make collaboration easier for your teams. Each of your team members will be able to access the necessary documents for a project wherever they are. All the while, workflow automation will be working in the background on more mundane tasks, freeing up your team's time to work together. Now that's working smarter!
Keep your hybrid team engaged in their work and collaborating by equipping them with the right print, scan, and workflow processes. Reach out today to let one of our experts optimize your business processes to better meet the needs of your hybrid team!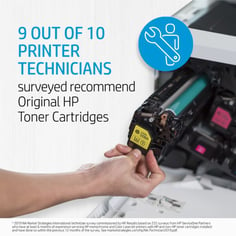 Sometimes what looks like savings can turn into a hassle. If you are running aftermarket supplies in your print devices, reach out to see how we can help to convert you to OEM. We typically find that we can help our clients make the change to OEM without impacting the total cost of ownership and the monthly operational cost to run the print environment. If you are currently running OEM supplies and are thinking about trying aftermarket supplies to try and save some money, there may be a better way to save! Reach out to talk to one of our MPS experts.

HP OEM supplies provide the confidence you can rely on for everyday printing. HP is committed to the environment by using recycled materials in new cartridges and offering a free recycling program from one of the 100 most sustainable companies in the world. Supplies also meet eco-label emission criteria to help maintain air quality. Trust is also provided from the packaging to the chips to use supplies that protect your printer and your data. Lastly, peace of mind is provided in knowing that you are using HP OEM supplies.