The incredible powers of AI continue to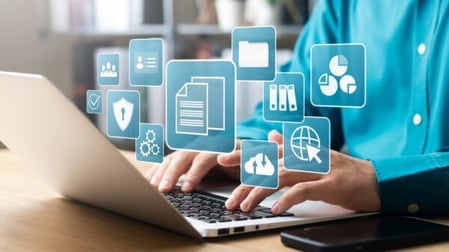 elevate workflows to new heights.
Document classification engines are the latest in innovative technology that serve to make tasks easier. This AI driven tech can automatically classify documents based on your organization's existing data needs. It helps to eliminate the tedium of manually sorting through documents one by one and will free up more time for your team to work on engaging tasks.
So how does document classification work and what are the benefits to you and your team?
What is Document Classification?
Document classification is when you assign documents into one or more specific categories. This can make it easier for your team to locate files later, by searching them based on their class tag or by using a filter system. Documents can be sorted into things such as pictures, invoices, saved emails, scans, videos, or other categories of text documents. They can be given specific tags, sorting them by project as well as document type.
Classifying your documents can make it easier for you to sort through information. If you need to access an important text document or review past invoices, having documents properly sorted and classified will make it faster for you and your team to find them.
Document Classification Makes Collaboration Easier
Classifying your documents is more important than you might think!
One McKinsey report estimated that workers spend almost 20% of their time tracking down internal information (McKinsey). That's time that could be used for role specific tasks or collaborative projects, which employees find to be more engaging on average. In fact, 58% of respondents during a Deloitte study cited being happiest when collaborating (Deloitte). Collaborative tasks can decrease turnover rates and increase your employees' overall satisfaction.
Improving your document classification system can thus give back time to employees for collaborating and create a more welcoming work environment. So how can you improve your current document classification processes? In the past, it was all done manually. But with the help of AI technology, these tasks now take less time and can be done with minimal human intervention.
How AI Document Classification Engine Helps Teams like Yours
With AI, the process of classifying documents is simplified. Different applications will have their own ways of classifying documents. This can be done through image classification, where specific objects on scanned documents will be identified as being like others and grouped together. AI models can also be trained by first manually selecting and inputting instructions for specific document types. Then all your team has to do is to upload your documents and let the AI do the rest.
Creating an easy-to-use searchable record system can help your team reduce the time your team is spending looking for important information. The McKinsey study found that time spent searching could be decreased by as much as 35% (McKinsey). With new AI technology, that number is projected to get better and better!
Want to learn more about how AI can simplify document searching for your team? Our team is happy to answer all of your questions. Reach out today to start improving your workflows!