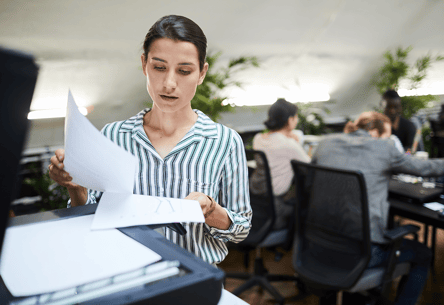 There is sensitive information on the administrative documents printed at your office. The obvious are pages containing your employees' salary, tax, and insurance details. Then there are medical and legal records, and benefits and severance packages to consider. The not-so-obvious are things like customer invoices including billing details, contacts and account numbers.
That's not all. There is sensitive information on your business documents too. Think about competitive data, upcoming project details that are under wraps, and records of large company decisions like an acquisition or buyout. It's not just your data either. Client work is usually bound by an NDA, and there could be serious repercussions for exposing information there.
But you protect your documents with software! We're sorry to say that your software becomes irrelevant the second a job is sent to a printer. The remaining (and overlooked) threat is pages that are left uncollected at print stations, and these account for 30% of all office printing and represent a real information risk.
So how do you protect yourself? It's simple—don't allow your documents to be forgotten.
What would this require?
Users to authenticate their output before printing occurs
The ability to implement company-wide policies that restrict "free-for-all" printing
Works with printers from any manufacturer
Adaptable to an existing print environment
What would also be nice?
Centralized control to save management time
Tracking and reporting to understand costs
Reduced paper waste
A print queue can do all of the above, and alleviate the risk of sensitive information being exposed. Employees can send a job from any device, but printing doesn't start until the user authenticates it at their chosen print station. Most of our customers choose proxima ID cards, but pin-codes and other authentication methods exist as well. There is no productivity loss because new printers are so fast (between 40 and 100 pages per minute) that you aren't waiting on jobs to finish.


There are several options when it comes to protecting your information with a secure print queue. We've had great success with FollowMe by Ringdale. It works especially well with print environments that have a large installed base of HP devices. If you're interested in learning more, feel free to reach out—we'd be happy to help.