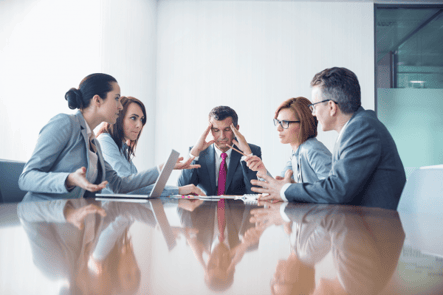 Too many cooks in the kitchen—that's a problem. We know how that scenario ends, right? Or, think of it this way: would you have two IT Managed Services companies managing servers on the same network? Would you have one lawn maintenance company cut your front lawn and another cut your back? This type of scenario is a longstanding problem for many companies when it comes to office printing. Traditionally, larger devices like office copiers were sold and managed by the manufacturer, and smaller network and desktop devices, by a technology reseller.
Today, we'll focus on how this impacts employees.
Scenario: You want to implement a secure printing authentication system like FollowMe.
FollowMe printing is a great way to reduce waste and improve security. Employees simply walk up to the printer they are closest to, enter a pin or tap a security badge and their print jobs appear on the device screen. Voila! Select the jobs they want to release and go.
But you have two vendors, and that complicates things. One set of devices supports FollowMe, the other doesn't. Or, it supports it but now one vendor wants to push its version of the software. So, you either have TWO systems working here, or some devices can't support simple and secure printing.
Or worse, you have one secure printing solution running on both vendors' print hardware, and when there is a problem, you experience finger pointing. The service technicians from the organization that didn't provide the secure print solution will likely have no idea how to connect and reconfigure it after upgrading firmware or completing a repair where they need to reset their device.
The same is true of any software you want to implement with multiple print vendors. It just doesn't work.

There was a time when it made sense to have multiple vendors for office printing, but today, you print less. Smaller devices are much more robust and cost-effective. Comprehensive hardware vendors like HP or Canon have machines for almost every department size or application. Independent MPS and software solutions experts can manage the whole print environment more efficiently while reducing your overall costs.
In our next installment, we'll look at how multiple vendors impact cost control. Stay tuned.