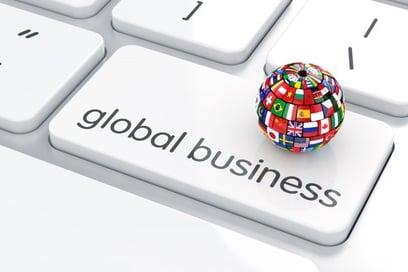 Are you a large organization with multiple locations nationally, internationally, or even globally? If so, then you must be feeling the pain of managing your print infrastructure. You're not alone. Many organizations are in the same situation where they find it difficult to deal with this part of the business.
Here are the top 5 challenges we typically see, along with the areas of opportunities where we can help.
Lack of global single vendor support
It's normal for organizations to have several different vendors for various locations due to the vendor's limitation to support nationally, internationally, or even globally. However, as the number of vendors start to increase, so do the struggles. This can easily turn into a logistical and financial nightmare.
Consolidating everything with a single vendor with a single SLA, enables your teams to focus more on the business, hence enabling efficiencies and growth. Consolidating vendors will have a positive impact on your bottom line. In addition to reducing overall cost, it will give your team significant time back so they can focus on more strategic tasks. Many organizations have chosen to work with experts like SmartPrint who make it easier for organizations to simplify this process, resulting in significant time and cost savings across the board.
Scattered lease timelines with additional service agreements
Due to the lack of global vendor support, this results in organizations having to sign multiple leases and additional service agreements. It can be a real challenge for companies to navigate through scattered agreement timelines, not to mention a nightmare for the finance department to align budgets. You would constantly need to ensure that the right contracts are being reviewed with the correct vendor at the correct times. Managing all of those renewals & negotiations is tough? This can also lead to expired contracts, lapses in coverage, or auto renewals that may not be competitively priced; therefore, negatively impacting your business.
SmartPrint's 360 Print as a Service program may make sense for you. This program is a true Print as a Service enabling organizations to combine all hardware, software solutions, supplies, and services into a single monthly fee. SmartPrint 360 enables your organization to easily flex your requirements up or down based on your business needs.
Too much hardware
The amount of excess hardware that we typically see can be quite overwhelming. It's been standard practice to replace devices one-for-one when that "lease" comes up or when it's close. But does it make sense? Maybe?! We typically find that this results in a lot of inefficiencies and a significantly high cost of operating.
We can help by doing a full in-depth assessment using various tool sets to learn about the entire scope of the business when it comes to print hardware, the print related and document workflow software solutions or lack of, overall current spends, and contracts life cycle. We will then come forward with a fully optimized future state and business case that makes sense. This future state will include a global standardized business model and a single SLA. Our team will then put a project implementation plan together which will include various tasks, timelines, and ownerships which will eventually enable your business to enjoy a more efficient and economical bundled delivery. We have found that this global standard has really given back a lot of time to IT teams, specifically when it comes to managing printers. Through our recommended standards, we can deploy hardware & software that has the same look and feel globally. Imagine having a single print queue and the ability to release a print job anywhere in the world with a simple tap of an access badge or by entering a unique PIN code. Not only does this eliminate the need to IT to manage local servers at all locations, but it also strengthens security of the device, document, and data.
SLA response times + support
Believe it or not, when a printer is down, it's really frustrating for users and slows productivity– especially when they rely on these devices for scanning workflow and faxing. With the way the economy and changes in office printing is affecting copier manufacturers, we are finding that their response times are not being met and getting support/supplies in a timely manner can really be challenging.
We thrive on delivering excellent service levels. This is the core focus of our business and we guarantee our response times and fleet uptime SLAs. We have tightly integrated systems which allow service calls to be placed either via an online portal, email, or via phone. These calls automatically flow through our ERP system and are dispatched directly to the handheld device of the primary on-site tech assigned. These tickets can be tracked live. Furthermore, we use toolsets to proactively monitor your print devices to predict failures and are onsite to service that device before the failure occurs. Currently, approximately 25% of service calls are proactive and we are constantly improving that metric.
Security compliance
The big topic today. Printers are just like computers. Through assessments we consistently see security issues with current state print infrastructures. Organizations always have solutions in place to protect PCs, so why not do the same for printers? Almost all of the time, print device endpoints are overlooked when it comes to meeting security compliance.
SmartPrint will recommend the best in breed devices that are not only the most secure printers in the world but are also able to be locked down automatically and managed from a single point. This makes it super simple to get that checkmark during a compliance audit.
Our processes are tried, tested, and have helped numerous organizations streamline their efficiencies and really improved the speed and delivery of their IT teams. By avoiding the complexities and hassles involved with multiple vendors/contracts, your business can save hours of time and thousands of dollars through vendor consolidation
Are you interested in learning more about how we can help you with vendor consolidation? If so, please reach out.