While getting your team back to the office it's likely a good time to evaluate, update and simplify your office print and print infrastructure management with a Flat Monthly Fee approach to MPS (managed print services).
Leading MPS providers have simple and creative programs that can enable your business to have a completely hands-off approach to office print and print infrastructure management. As compared with current MPS programs that bill by the page for toner and service, a Flat Monthly Fee program can take MPS to the next level.
Here's what's included in a Flat Monthly Fee MPS program:
All the hardware you need with the right copiers and printers placed in the ideal location

All the software you need i.e. secure printing software, print security software, print management and monitoring software enabling pro-active supplies and service management, even the opportunity to include automated workflow software for each department

Pro-active service response and supplies management with a guaranteed SLA

All of the monochrome and colour pages your business needs and the page volumes are adjustable as your business changes, just like your mobile phone plan

On-going print fleet consulting services with deep dive annual reviews to look for productivity and cost savings supporting continuous improvement

Professional print infrastructure management to keep everything running and up to date ie. Print driver and firmware updates, print software maintenance and updates, and proactive support

Truly, one monthly bill that includes everything with the custom reporting your business requires
At SmartPrint, we have the SmartPrint 360 program that many of our clients enjoy, and it includes all the details listed above. Our growing list of clients utilizing the SmartPrint 360 program have provided some quality feedback on the benefits they have realized. Given that all aspects are managed for them they see significant value with time savings in the IT, finance, and administration departments and with an always-up print fleet, their users have never been happier. Keep in mind that this is not a one-size-fits-all type of program. Each 360 program is customized to the specific clients' requirements. Businesses of all sizes and industries have realized positive benefits of Flat Monthly Fee programs.
Reach out today for a free on-site assessment with a SmartPrint MPS Consultant to see if your current state has room for improvement.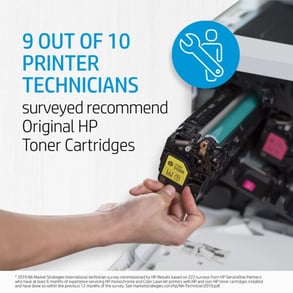 Sometimes what looks like savings can turn into a hassle. If you are running aftermarket supplies in your print devices, reach out to see how we can help to convert you to OEM. We typically find that we can help our clients make the change to OEM without impacting the total cost of ownership and the monthly operational cost to run the print environment. If you are currently running OEM supplies and are thinking about trying aftermarket supplies to try and save some money, there may be a better way to save! Reach out to talk to one of our MPS experts.

HP OEM supplies provide the confidence you can rely on for everyday printing. HP is committed to the environment by using recycled materials in new cartridges and offering a free recycling program from one of the 100 most sustainable companies in the world. Supplies also meet eco-label emission criteria to help maintain the air quality. Trust is also provided from the packaging to the chips to use supplies that protect your printer and your data. Lastly, peace of mind is provided in knowing that you are using HP OEM supplies.