Working from home (WFH) has been a positive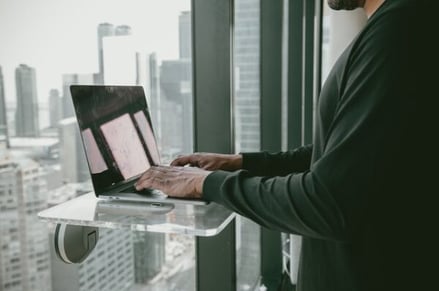 transition for more than 50% of employees but
is still up for debate in a lot of corporate
boardrooms with many businesses looking to review their remote working position. Last week Elon Musk mandated that all Tesla employees must now report back to the office permanently. Making changes to employee working practices and mandating a requirement to return to the office for some, or all of the work week may not be a simple decision and can have implications for staff retention.
IDC's research has shown that most businesses fail to integrate print and document security into the IT security plan. Printer and MFP network endpoints are definitely security risks, along with every other device that is connected to the network. Businesses need to build out an enterprise-wide approach to protecting the print infrastructure. Remote work has further complicated print security with employees connecting to cloud applications and their use of business documents at home. Through this pandemic, with the WFH employees far outnumbering the office workers, the direction and focus of cyber activity has aligned its sights in a new direction. Cyber data breaches are on the uprise and the attacks are not going to slow down.
WFH employees accessing printed and digitally stored document related to the firms or client intellectual property, HR information, customer contact and billing data, internally classified financial documents etc., put an exclamation mark on the need for the IT Security teams need to develop a new plan and protocol to support the hybrid work model. There is further complexity for certain verticals with stringent document compliance requirements.
Here are some things to think about:
Cyber training for your employees

Configure and update device firmware

Use secure remote print security software

Create a policy and process for sharing sensitive documents

Contact an expert to help
Reach out today and schedule a consultation with a SmartPrint expert to see if we can help.

Without central control of your print fleet, security settings are extremely difficult to manage, and entry points for cybercrime are more easily overlooked. It becomes even more complex supporting work from home employees and integrating equipment to workflow automation systems. Your IT team could be focused on configuration settings and authentication rather than working on other valuable IT projects or support. Encryption and authentication can be accomplished universally with an integrated automated security management tool. We've had great success with HP JetAdvantage Security Manager, ask one of our experts to share best practices in this area.