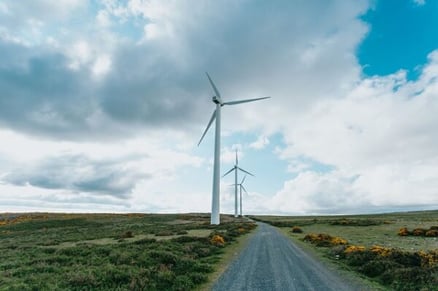 I'm always mindful of how what we do in our lives affects our planet, and although I could never have imagined that we would experience the tragedies of a global pandemic in our lifetime it's good that there are some areas of impact that have been positive; like the effect it has had on sustainability with reduced emissions worldwide. We expect this to continue long term with so many leading companies embracing hybrid work models for their teams. I'm also intrigued that the pandemic has increased our propensity to be more sustainable. Organic food product sales have dramatically increased, people are mindful about purchasing ethically/sustainably produced products, and large companies are leading the way with changes to office space that supports hybrid work and sustainability. The transition to hybrid work is resulting in the ongoing use of less fuel and energy for commuting while enabling a better work/life balance. The new focus that many have on the work/life balance has allowed our society to slow down a little. Many have found new hobbies, are spending more time outdoors and are experiencing new vacation adventures closer to home. The transition to hybrid work models is here to stay and this will have a lasting effect on reduced emissions that will positively support sustainability.
Three years ago, prior to the pandemic, Microsoft had designed a new Canadian headquarters in downtown Toronto. It has been built with a plan to optimize the space for a hybrid workforce with flex space for employees, partners and customers in mind. Eric Wand, head of IT at Microsoft Canada was tasked with implementing technology to support the team. There are dual large screens in each meeting room to enable content on one with a view of the meeting attendees on the other, state-of-the-art microphones, speakers and AI-powered cameras are in place to enable a similar meeting experience regardless of where the user is working. Many leading technology companies including Cisco are on a similar path, and they have productivity and sustainability in mind as they shift to their hybrid plans.
It seems that work is no longer a place to go to, but it is something we do and it's clear that people want work to fit into their lives while having more control on the balance. Employers are more focused on productivity, efficiency and getting the work done on time and less focused on the hour of the day that the work is done.
My prediction is that companies will follow the lead of their peers and ensure that their employees have the tools they need to be successful with a hybrid model. Technology is playing a vital role in the hybrid transition.
Here are some technology changes and investments we have seen companies complete in support of the transition:
Collaboration platforms supporting inclusive of in-office and remote, supporting balanced verbal and chat communication to enable involvement from different communication styles (extrovert vs. introvert)

Digitization applications are enabling flexibility to close the gap on proximity with mobile digital capture and workflow software, so that regardless of where the worker is they can complete their tasks with the automation and processing of departmental workflow with integrated approval processes, audit trail and repository connection, keeping the business flowing in a hybrid model

Thoughtfulness about when we need to collaborate live in the office and when we can save the expense of energy and fuel for travel and collaborate virtually while saving commute time supporting life balance and sustainability

Simplifying by standardizing a balanced deployment of print/scan devices for in-office access to printing with quick easy cloud connection for employees, partners, and customers (guests)
The SmartPrint team has a passion to help create a future that is more sustainable by improving the way that we operate our business and by helping our clients implement technology and software solutions that help to achieve a net zero future. I'm excited to see more successful sustainable office transition projects completed. The future of our planet depends on it.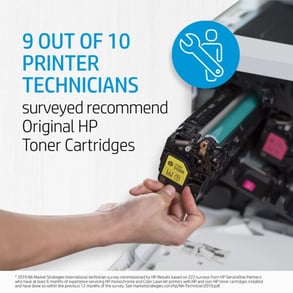 Sometimes what looks like savings can turn into a hassle. If you are running aftermarket supplies in your print devices, reach out to see how we can help to convert you to OEM. We typically find that we can help our clients make the change to OEM without impacting the total cost of ownership and the monthly operational cost to run the print environment. If you are currently running OEM supplies and are thinking about trying aftermarket supplies to try and save some money, there may be a better way to save! Reach out to talk to one of our MPS experts.

HP OEM supplies provide the confidence you can rely on for everyday printing. HP is committed to the environment by using recycled materials in new cartridges and offering a free recycling program from one of the 100 most sustainable companies in the world. Supplies also meet eco-label emission criteria to help maintain the air quality. Trust is also provided from the packaging to the chips to use supplies that protect your printer and your data. Lastly, peace of mind is provided in knowing that you are using HP OEM supplies.