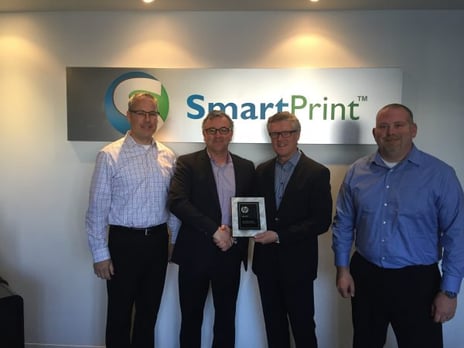 Toronto, Ontario, Canada June 6, 2016 — SmartPrint has been recognized as Hewlett Packard Canada (HP) Best In Class Partner because of their extensive growth in providing their clients with managed print services and document control and workflow solutions across Canada.
Leyland Brown, Head of Solutions for Hewlett-Packard Canada, shared the details of the award with Tim Lomax, President of SmartPrint:
"On behalf of HP and the Canadian Solutions Organization, I would like to congratulate you and your SmartPrint team on being recognized as the Top 'BEST IN CLASS' HP MPS Channel partner for the second half of HP's fiscal year 2015. Your dedication to HP is a huge contribution to the growth of HP's Channel MPS business and your leadership is a key driver for HP's continued investment in products, resources and programs to grow the Channel MPS business."
John Cammelari, Vice President of Commercial Channels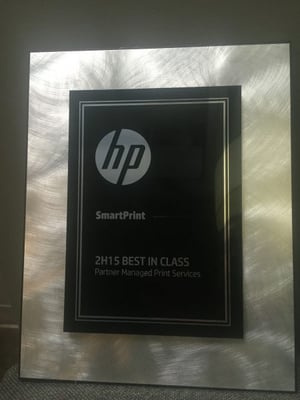 in Canada said while presenting the award to the SmartPrint team:
"SmartPrint is the platinum standard of HP MPS partners to which all other partners are measured against".
Tim Lomax, President of SmartPrint shared:
"This award is tremendous recognition of the whole SmartPrint team's continued success in providing unique, custom MPS solutions that add significant value to our clients businesses. It is very exciting to be the first technology partner in Canada to win this award! We are excited to continue our stable growth and expansion plan to support the mid-market and enterprise organizations across Canada."
About SmartPrint Inc.: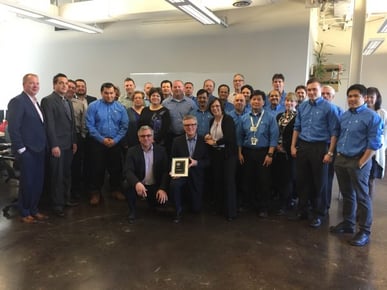 SmartPrint helps organizations make sense of complex print environments. SmartPrint's team of managed print services (MPS) experts leverage the markets best tools and systems, and as Canada's leading MPS independent, offer best in breed office printing equipment and software to help simplify office printing, scanning and document workflow. Our clients experience dramatic improvements in user efficiency, reduced print costs by 30% to 50%, reduced helpdesk calls by 25% and significant administrative efficiencies through vendor consolidation. As Canada's leading independent MPS provider, SmartPrint's solutions are not about printers, they're about people.
For Press or Analyst inquiries please contact:
Rob Farrell
rob.farrell@smartprint.com
905.475.6177 x234