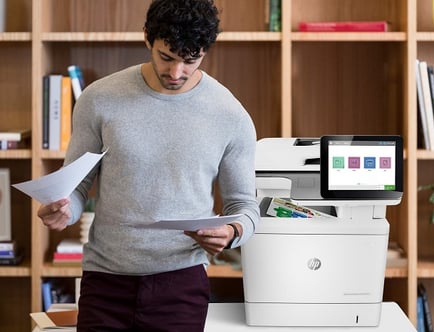 Does it make sense to sacrifice user uptime, deal with user frustration and degrade your office print quality to save a few bucks?
There is a large difference between OEM and
non-OEM toner cartridges from a quality perspective. What's important to know is that for most printers and MFPs, about 70% of the printing process and technology resides within the toner cartridge itself. So, when you replace the toner cartridge you are actually replacing about 70% of the printer. That's quite the overhaul. It has been a while since we have created a blog post regarding supplies, but with the Covid-19 pandemic, some organizations are making decisions strictly around cost, but they may not have all of the insight that is relevant to the decision of switching.
As MPS (managed print services) experts with over 33 years in business, we have had a significant amount of experience in truly understanding the difference between OEM and non-OEM (remanufactured or illegally cloned) toner supplies for laser printers.
Why most companies prefer OEM when they have had experience with both OEM and non-OEM:
Less downtime – based on industry data of 10 MPS companies across North America, office print devices running OEM toner supplies require as high as 45% less service calls (the average in the sample was 40%). With OEM toner, users experience less downtime as compared with the same device that is not using OEM supplies.

Print quality – Supplies that are not OEM are not made to the same specification as OEM because they use aftermarket parts and aftermarket toner. This can cause reduced print quality and toner residue left inside the printer (dirty print engine). About 40% of non-OEM toner results in greenish blacks, faded colour output, or other print quality issues.

Supply failure – a high percentage of non-OEM supplies fail before all of the toner is used, which impacts the cost for page in a negative way. If you don't get to use all of the toner, you are paying too much per page.

Achieving cartridge yield - OEM supplies are held to stringent regulations and standards that allow the manufacturer to accurately advertise how many pages a user can typically get out of a cartridge. When using non-OEM toner, you never really know how many pages you'll be getting. Based on data SmartPrint has collected, non-OEM cartridges only achieve 70-85% of the original yield.

Device longevity – here's a simple analogy; if you run low grade 87 octane gasoline in a performance car engine that requires 91 octane gasoline, your engine will run rough, have more problems, and will not last as long as the same vehicle that runs the proper fuel. It is the same as a print device that is not running OEM supplies. The trade-off of running the cheaper incorrect fuel, or toner supplies, is more costly repairs, frustrating performance issues, and a shorter life span for the car, or hardware you invested in.

Sustainability - there's a misconception that non-OEM cartridges can be better for the environment. The reality is that OEMs, like HP, have free cartridge return programs that allow used cartridges to be responsibly recycled and diverted from the landfill. Industry statistics estimate that about 90% of non-OEM cartridges end up in the landfill after a single-use.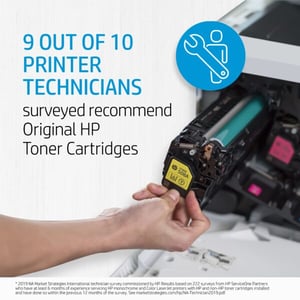 Sometimes what looks like savings can turn into a hassle. If you are running aftermarket supplies in your print devices, reach out to see how we can help to convert you to OEM. We typically find that we can help our clients make the change to OEM without impacting the total cost of ownership and the monthly operational cost to run the print environment. If you are currently running OEM supplies and are thinking about trying aftermarket supplies to try and save some money, there may be a better way to save! Reach out to talk to one of our MPS experts.

HP OEM supplies provide the confidence you can rely on for everyday printing. HP is committed to the environment by using recycled materials in new cartridges and offering a free recycling program from one of the 100 most sustainable companies in the world. Supplies also meet eco-label emission criteria to help maintain the air quality. Trust is also provided from the packaging to the chips to use supplies that protect your printer and your data. Lastly, peace of mind is provided in knowing that you are using HP OEM supplies.