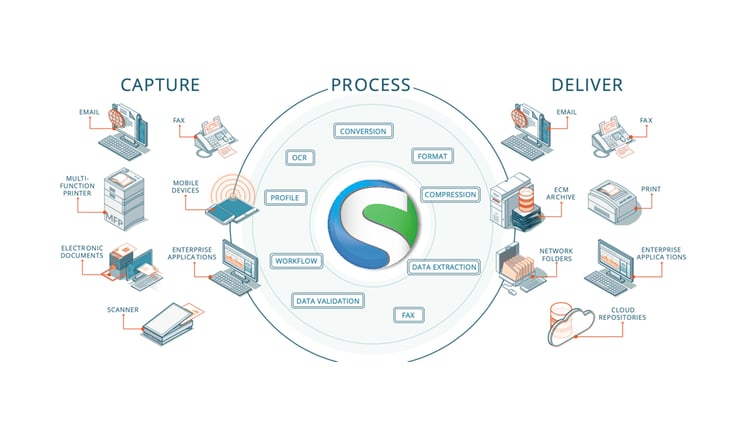 Although most organizations have had a strategy around digital transformation, most were not yet in execution mode and therefore had a tough time supporting the tough transitions this pandemic has required. We talk to businesses every day who are struggling to close the loop on business processes with automation.

Initially when everyone had to work remotely with the COVID-19 pandemic, mailrooms moved quickly to ensure recipients of inbound mail and faxes received important documents by scanning these documents to email in pdf image files. While this ensured correspondence was looked after, we all know that email isn't a digital filing cabinet and shouldn't be used as one. These documents will continue to increase mailbox sizes and could be lost.
The Intelligent Workflow best in breed solutions that SmartPrint provides can help organizations substantially increase productivity in almost every department of the business. Where there is a business process with documents and people involved, there is an automation opportunity. That said, often people struggle with how and where to get started with automation in their business. The mailroom is a logical place to start a digital transformation strategy.
A mailroom can use scanning and documents workflow software to run a digital mail delivery service that will benefit the internal customers (all employees) for the whole organization. Why not kick off the first automation step where documents come into your business?
Top 6 benefits of digitally transforming the mailroom:
Time savings from no longer maintaining paper documents
Reduce operational costs by eliminating printing, expensive couriers and real estate costs required for document storage
Increase accessibility to all documents with controlled access, anytime from anywhere
Decrease user wait times for document turnaround
Improve security and decrease lost and misfiled document from human error
Simplify processes and improve the end users experience
A project to transform the mailroom is a quick win that has visible and tangible value for your business. One of the keys to getting started with automation is having a quick win that you build off with more projects across the organization. You can build a better business while using the same workflow platform.

HP Capture and Route is a great example of a digital management tool that can automate the ingestion of content from multiple inputs and flow the content right into automated workflows built in an intelligent workflow software solution. We have had a lot of success with this tool as the front end of a fully integrated business workflow system. With our intelligent workflow solutions, we have multiple options of best in breed platforms and we ensure that all of the applications are agnostic so if there are changes in your environment your workflows are intact for the future.
If you are interested in learning more to see how we can help, reach out for a brief conversation and perhaps a demo.