Global supply chain issues are causing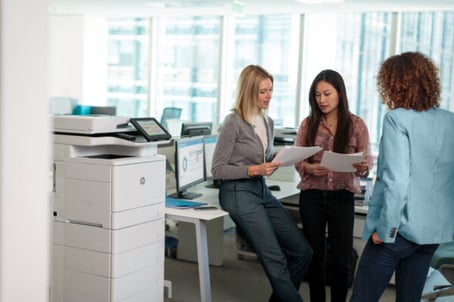 serious challenges for technology manufacturers. Intel's CEO shared that "the chip shortage won't end until at least 2023". The chip shortage is not only hitting the PC/laptop market; Apple has had to cut the production of the new iPhone 13; Toyota had to cut production by 40% in October, and every office print manufacturer has been affected. Some are worse than others. In the MPS business, equipment, supplies and parts shortages are a challenge because of manufacturing delays and significant backlogs at ports globally. Shipment containers are stuck on ships for weeks due to crane operator delays.
How do you navigate a return to the office with these issues? What if your copier that has had a lot of downtime is overdue for replacement, or your MPS agreement has lapsed, is month to month, and your current provider is not supporting your business with good solutions?

Here are 3 important things to think about:
Engage a professional to figure it out

An MPS Consultant can provide a plan to reduce the risk of your company being affected by completing an assessment of your needs while leveraging your existing equipment that still has serviceable life. Where there is a need for new equipment an MPS Consultant can recommend equipment from manufacturer(s) that are in the best position with equipment inventory now, and the supply of print consumables and parts to keep your business up and running. An independent expert will know what manufacturer partner is ahead of the game and has the plan and financials to survive the current challenges. The office won't go back to how it always was, leaders need to engage experts to support their people in this new hybrid model.

Security

Cybercrime is at an all-time high and Covid made it worse with employees being targeted and potentially exploited from their home offices. It's important to work with an expert that can secure your print infrastructure with automated software in the office and for the hybrid/home office worker, including policy management for device firmware to properly harden the print endpoints. Paper documents lying around the office can cause critical breaches of personal data. Physically securing the print equipment with a secure printing tool that requires the users to authenticate with a PIN, badge or mobile device using NFC will mitigate data loss risk through paper documents; it will also increase productivity and support consolidation of print equipment.

Intelligent Workflow automation supports anywhere, anytime access to get things done

There are dozens of mixed media document workflows in your business that can be completely digitized and automated with an Intelligent Workflow system. You can enable your employees to work successfully and efficiently at the home office, the coffee shop, or in the office. The pace of business is speeding up and making your hybrid team successful by automating business processes that will increase efficiency, create a competitive advantage and improve employee retention is a smart move. Connecting the printing and imaging equipment to software to automate business workflow can be simple, and there has never been a better time to take the first step to see how easy it can be to get started with digital transformation.
The three areas above are tightly connected. When you are thinking about approaching one of them, the expert you engage should be thinking about each area to be sure you have a scalable, secure print and document infrastructure to reach your business goals.
Reach out for a brief qualifying conversation with one of our experts.


Without central control of your print fleet, security settings are extremely difficult to manage, and entry points for cybercrime are more easily overlooked. It becomes even more complex supporting work from home employees and integrating equipment to workflow automation systems. Your IT team could be focused on configuration settings and authentication rather than working on other valuable IT projects or support. Encryption and authentication can be accomplished universally with an integrated automated security management tool. We've had great success with HP JetAdvantage Security Manager, ask one of our experts to share best practices in this area.