The predicted disruption of hybrid work is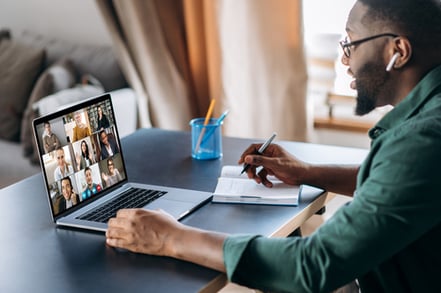 no longer a theory, it's happened, and it is here
to stay. It's time to enable the hybrid worker
regardless of where they decide to work.
Automation has become ubiquitous in the manufacturing process and AI (artificial intelligence) automation tools are quickly taking over website customer service and support. One area where automation is used extensively in business is with software automation tools for mining financial data. The next area of focus that is now gaining momentum is workflow automation for employees. There are very powerful, yet simple to use intelligent workflow tools for your business that deliver measurable efficiency gains resulting in a significant ROI. Think about where there is variation or costly errors in an important business workflow and you have found a good place to take your first step.
Automation of your current workflow helps to reduce manual work and redundant tasks, and with the ability to put all of the automation in the cloud. It doesn't matter if the employee is in the office, a coffee shop, or their home office, they can complete their part of the workflow efficiently.
Here are 5 workflow automation opportunities to add efficiency while including and benefiting the hybrid worker:
Travel and Expense reimbursement

Automate the input of receipt data with digital capture

Simple online manager approvals

Finance receives all of the details and no longer have to chase people down



Invoice management and approval (Accounts Payable)

Save a lot of time and improve accuracy by getting rid of the mundane, error-prone data entry

Visibility of all stages of the AP process

Integration with existing systems

Integrated web/mobile approvals



Contracts Management

Increase contract visibility with anywhere, anytime secure user access

Shorten approval times

Never miss a contract renewal



Customer Service

The quicker the response, the happier the customer

Reducing errors will make the team more reliable

Increase the efficiency of the team by lightening the low-value workload



Human Resource Automation i.e. Onboarding employees

Simplify this process and improve the first impression for your new employees

Put the whole paper trail on-line

Give time back to your busy HR team
There is a link to MPS (managed print services) because the hybrid worker has a requirement for handling some paper-based documents and if they don't have the tools they need they are likely wasting time trying to get by doing everything digital when they are working from their home office. For many workers, if they are going to be productive, they need the ability to print, scan and copy with a secure business-class device that fits the space they have. The hybrid worker needs support for the equipment and your IT team already has enough to deal with. Also, security is absolutely critical for your business because hackers are targeting homes to gain access to business data and networks. Connect with your MPS and workflow experts to help connect all of the dots in the document lifecycle. We can connect your whole team with workflow automation tools that will improve your business.

Without central control of your print fleet, security settings are extremely difficult to manage, and entry points for cybercrime are more easily overlooked. It becomes even more complex supporting work from home employees, and integrating equipment to workflow automation systems. Your IT team could focused on configuration settings and authentication rather than working on other valuable IT projects or support. Encryption and authentication can be accomplished universally with an integrated automated security management tool. We've had great success with HP JetAdvantage Security Manager, ask one of our experts to share best practices in this area.