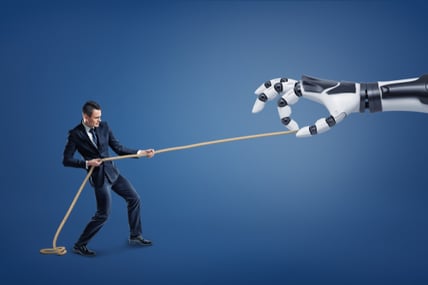 Companies that focus and invest in digital transformation will create a competitive advantage for their businesses. Most departments in your business can have significant increases in productivity by implementing intelligent workflow solutions that automate manual repetitive tasks and seamlessly incorporate and improve existing business processes to accomplish digital transformation.
Your AP department is a great place to start. Here's what you can expect as a project outcome.
Efficiency gains of more than 50%

Quick ROI with payback on your investment in less than 3 months

Increased accuracy, no errors moving forward

Rapid deployment of an intuitive, simple system requiring minimal training (typically a 1 to 2 week project)

Visibility through reporting and analysis

Audits can be completed in minutes instead of weeks
Even if you have taken steps towards digital transformation and setup an AP module from your financial software package, intelligent workflow solutions can complement and integrate with no code or scripting. You can dramatically increase your AP team's productivity with machine learning software that can automate the time consuming, error-prone tasks of data entry, and processing that an AP clerk performs. The efficiency gains come from freeing up the AP clerk's time to focus on exceptions, analysis, and managing the related processes. It puts the clerk in a position to use their knowledge rather than spending time on the mundane repetitive task of data entry. We have implemented solutions that are successfully automating the AP process for 95% of an organization's invoices while speeding the processing and accuracy of the other 5%.

HP Capture and Route is a great example of a digital management tool that can automate the ingestion of content from multiple inputs and flow the content right into automated workflows built in an intelligent workflow software solution. We have had a lot of success with this tool as the front end of a fully integrated business workflow system. With our intelligent workflow solutions, we have multiple options of best in breed platforms and we ensure that all of the applications are agnostic so if there are changes in your environment your workflows are intact for the future.
One step at a time for a digital transformation move
The best strategy for organizations that want to move to digital transformation, is to select an independent expert partner to work with and start with one department that can realize a significant ROI and successful project. Step one of our approach is to solve a high priority business problem successfully and expand across all departments in a step by step, win by win process. A full solution for AP should include fully automated ingestion and data entry from any form of invoice (email attachment, hardcopy scan, web form upload, etc.) as well as an integrated, automated workflow for the approval process that connects the silos in your business.
Here are some details of Accounts Payable solution components and connections.
A machine learning solution to automate the ingestion of invoices integrated into the existing financial purchase order and invoice system. We have worked with home-grown legacy systems, off the shelf financial packages, or sophisticated Enterprise Resource Planning software.

An intelligent workflow system that can integrate into the ingestion system as well as act as a repository and analysis tool while integrating to your company email and other systems to support and automate the approval and exception processes.

Other connections often supported are flowing invoices or links to the invoices to your financial system; connecting to CRM systems to enable future invoice and PO lookups for finance, customer service, sales, and other departments; connecting to existing document management systems that may be used as the repository of final documents. There are many other opportunities to connect and make your workflow intelligent and automated.

Here's the bonus: the above solutions we implement can be used for digital transformation and automation of workflow across all other departments. The solutions we use are best in breed and can basically integrate with anything while acting as the workflow overlay and connector to all of your systems.
This is much easier than it sounds! It is time to ready your business for the future. If you are interested in catching up to your competition, or potentially getting ahead and creating a competitive advantage by supporting your clients and supply chain more efficiently and effectively, reach out for a brief conversation and perhaps a demo to see if we can help.
Additional Resources:
Read this digital transformation case study to see how this manufacturing business made their Accounts Payable more efficient, improved processes, reduced errors, and reduced costs.