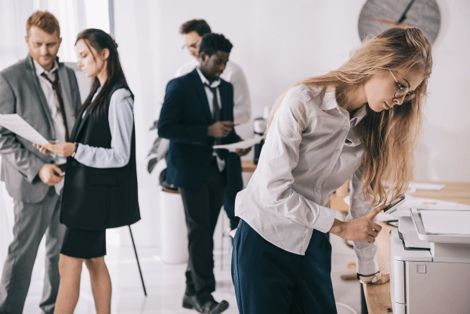 You wouldn't build a sandcastle in a hurricane, but you may have set up your print infrastructure in the same, unmanageable, way.
We get it—the printers in your office are an afterthought given the workload of projects, support and maintaining systems, if you've given them any thought at all. But if your infrastructure isn't dependable, secure, and scalable, it will inevitably fail, and you'll find yourself asking for help in one of the following situations:
"I need tech support for an older device in the accounting department."
"We ran out of toner and our users are freaking out because they can't get their work done."
"Our employees don't know how to use OCR on the scanner (or even what it is!)."
"How can I eliminate all the uncollected printouts that pile up each week?"
"Our security has been breached, and IT security think it started at one of the old printers we have."
The list goes on, but the problem is always the same: print infrastructure that wasn't built for proactive management. The solution? You need these three things.
#1 Smarter Devices

This one seems simple, and it is. Printers that have more sensors compute more data and allow you to fully understand your office print volume and service and supply needs. The components have a longer lifespan and are designed for service optimization unlike many of the devices in your current fleet (looking at you, old HP 4200/4250/4300 printers). While new equipment may sound like an expensive option, the costs may actually be much lower when you consider the above issues, especially when included in a managed print services agreement.

#2 Systems Integrations
Automated device monitoring and management requires software, and with the right integrations, you never have to think about service, supplies, or security again. Tools like Remote Technician, RMS, scanning to ERP, and DCA can significantly improve your workflow, reducing downtime and employee frustration. Integration with security software is of particular importance because most older (4+ years) office equipment is not secure, and even newer devices need regular updates to fix potential security vulnerabilities.
#3 Scalability
With smarter devices and system integrations, your print infrastructure becomes scalable. Standardized technology means smoother transitions and less administrative headaches as your business grows. This is especially important for employees. As they learn how to send a job to a printer, then release the job(s) when they collect them, they do not need to relearn how to do it for other printers. Employees then teach improved workflow and cost reductions to others.
Can your current print provider manage these issues, (hint: if you are having any of the above issues, they likely cannot)? At SmartPrint, not only can we do it, we can do it anywhere you have offices in Canada the U.S. and beyond. When you implement SmartPrint 360 (Print As A Service), you automatically get the SmartPrint 360 Stack covering all of your technical print infrastructure needs.