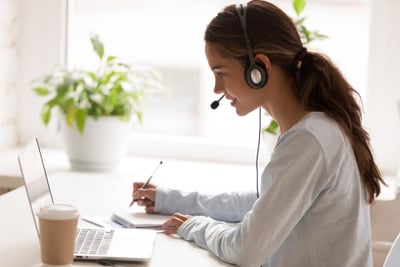 In this blog, we discuss how organizations can overcome the workflow challenges with remote workers and the future of business workflow in the new normal.

With the recent COVID-19 crisis, it appears that the new normal for many organizations will be to have a large percentage of their team working from home offices. Many organizations are struggling with disconnects in business processes given that remote teams are not able to gain access to stored paper documents and cannot complete business processes that are not online or have not yet been digitally enabled or transformed.
In a recent article in The Globe and Mail "…Shopify said most of its 5,000-plus staff would continue to work from home while it also adjusts its workflow and office-space needs." It can be seen that technology companies are leading the charge, but even high-tech firms need to change their workflow to support efficient processes for remote workers.
Adjusting to the new normal
It can become very complicated for each department to figure out how to get work done when they are not together in one place in this new normal. In the past, a customer service person could go to a filing cabinet and access a proof of delivery document to help a client with an inventory inquiry; or, a manager could approve the purchase of IT equipment for an employee in a live conversation or by email. In the new normal you need audit trails and digital access for approvals. Most requests to simplify departmental workflow have fallen on the IT department to find a solution. Often IT ends up trying to extend modules of existing software applications and potentially writing code for integration to try and patch together workflow with multiple systems. It can be much easier, much less expensive, and take a lot less time.
The future of business workflow
A simple secure purpose-built system that leverages your existing core business software acts as an overlay to connect all the dots to enable digital, automated workflow. This is the future of business workflow. We have many clients that are ahead of the curve because they worked with us to digitally transform workflow in their departments like finance, customer service, HR, operations, sales, and more. In many cases, they wanted to simply make their business more efficient and improve their customer experience. Now is the time to move forward with digital transformation so that your organization can thrive in the future. It is time to change the way we work.
5 Key reasons why implementing intelligent workflow solutions to achieve digital transformation is easier than you think
Low code, or no code – cloud-based software can be implemented with little to no coding or scripting and can connect to your existing systems (ERP, HR, CRM, Supply Chain, Document Management or cloud storage, etc.)

Rapid deployment – from the assessment phase to fully implemented in as little as 2 weeks

No capital investment with an immediate ROI

Workflow solution access, anywhere, anytime and from any device

Limited involvement from your IT team – implementation of automated workflow systems requires access and collaboration with IT, but we do 95% of the work
Automation is key, and ensuring that your partner has the whole ecosystem of digital and hardcopy workflow covered right down to managing the security for the print, copy, scan end points that are the on ramps of your company's contact whether in the office or in a work from home setting. It is all connected and the security of each component of the workflow ecosystem cannot be overlooked.

Without central control of your print fleet, security settings are extremely difficult to manage, and entry points for cybercrime are more easily overlooked. It becomes even more complex supporting work from home employees. Your IT team is focused on configuration settings and authentication rather than working on other valuable IT projects or support. Encryption and authentication can be accomplished universally with an integrated automated security management tool. We've had great success with HP JetAdvantage Security Manager, ask one of our experts to share best practices in this area.