Welcome back! In the first installment of this
two-part series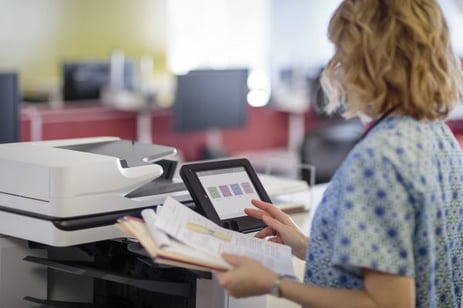 we looked at the principles of print optimization from a reliability and security perspective in a traditional healthcare environment and how optimizing the print environment in a healthcare setting is a unique challenge. It was seen that a traditional hospital, for example, is a complex environment where content flows throughout the organization in various formats. Data is sent, received and stored by sophisticated systems that are layered on top of each other. Print is a primary output point for that data. Making sure that the print environment is secure, reliable, cost-effective, and integrated will help in delivering quality patient care consistently.
In part two we'll focus on integrating the printer fleet with other systems to drive value and efficiency, and why streamlining print costs isn't as simple as it sounds.
Digital transformation in healthcare – understand end user needs first
As an MPS Consultant that focuses heavily on the healthcare vertical, I've personally seen increased adoption of solutions like secure print tools, fax over IP (FOIP) systems, and capture/route workflow tools. Hospitals in Ontario have also made large investments in upgrading their core health information systems. This digital transformation is the perfect opportunity to optimize the print fleet while integrating these new solutions and systems with each other.
Let's take a health information system like Epic, for example. Epic requires hospitals to map out all of their network endpoints as a part of the project's architecture. Introducing a secure print tool also requires a comprehensive inventory of printer locations and related data to run the project correctly. If your secure print project plan is to put copiers in the middle of hallways and expect users to hand over their personal desktop printers – think again! Here's an opportunity to kill two birds with one stone – use your print partner to map out the printers and collect the same data that the Epic team requires. It will lighten the load for the Epic team and give them a chance to verify the printer data and minimize blips in workflow printing when you go live. From an integration perspective though, secure print and a new HIS requires expertise. I recently had a call with a hospital that had rolled out a new HIS but already had a secure print tool. The secure print tool was "compatible" with their new HIS, but shared workstations posed a problem. The hospital found some workarounds, but it caused headaches for users and IT helpdesk staff. Fortunately, we had already solved this problem during a proof of concept for an existing client and were able to replicate the fix.
Remove analog fax lines
Now that you have secure print running in your environment, it's time to get rid of those legacy analog fax lines that phone line companies love billing you for. Fax over IP is a solution that often pays for itself while driving real productivity gains and improving document security. First, when a user authenticates using their badge or PIN, the device knows who's using it. When they send a fax, they don't need to wait for a fax confirmation – it just hits their email. Less paper is printed and there's no chance that confirmation pages get lost in the shuffle. Further, you have an audit trail if you ever need it. From a budget perspective, you can do the math. A fax line is anywhere from $45-$65 per month per line. The ROI is quick, and when you pair it with a secure print tool your users will be more secure and efficient.
Understand explicit and implicit costs
Now let's move on to cost optimization. There is no vertical in which cost optimization for print is so complex. You have your explicit print costs like hardware acquisition (purchase or lease), and your support costs which are typically billed on a cost per page. Where most organizations get lost is the implicit costs. There's user productivity, document/data/device security, electricity to run the devices, costs related to downtime and poor device performance, resources allocated to supporting print devices, and a multitude of other indirect costs that are tough to quantify. Even trying to understand these implicit costs is a cost on its own. With recent cuts to healthcare budgets in Ontario and more expected down the road, print cost control and reduction is a stone that shouldn't be left unturned.
The key is to engage with a print partner that can run the project for you. Give them what they need (a PDF map, costs, inventory of printers, and coffee!) and they should be able to do the heavy lifting if they are experienced. If the vendor's device consolidation plan is to remove all personal printers and install copiers in every wing, you're not working with a healthcare specialist. How do you convince users in a fast-paced environment to surrender their personal printer? Users will go to great lengths to hold onto that precious printer and the last thing IT needs to deal with is end-user revolt. An MPS specialist with deep knowledge of the healthcare space will have the tools to help you understand the explicit and implicit costs of your organization's current print environment. Understanding the current state will help you identify opportunities to reduce total cost without hampering other key principles of optimization.
Print optimization in healthcare is more than just replacing old hardware. The process is a balancing act but isn't a project that you should overlook. The end result could mean newfound budget for other projects on your roadmap and more resources to allocate to those projects. Identifying what hardware platform to standardize on is a small piece of the puzzle. Partnering with an MPS specialist that understands the space can save you a lot of time and effort down the road and will minimize bumps when integrating with your new HIMS, FOIP or secure print tool.
Are you interested in learning more about how you can optimize your healthcare print environment? If so, please reach out.