Managed Print Services through a Vendor of Record program (VOR) and tied to a manufacturer of hardware. Is that really MPS?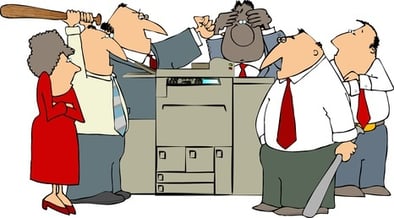 We consistently see organizations in multiple verticals that are running procurement for office print devices in a status quo mode. Many organizations in the professional services, manufacturing and distribution verticals are just not engaging in true Managed Print Services (MPS). We also see healthcare companies, hospitals and other public organizations working with vendor of record programs (VOR's) that are simply not meeting the objectives that the buying committee expected.
Typically we see that the Managed Print plan goes in one of two directions.
By working with a device manufacturer that claims to provide MPS, a one to one hardware refresh is performed and ends up increasing capital costs dramatically, while only moderately reducing operation expenses. In most cases, a hardware refresh wasn't even required.
A hardware refresh which involves the consolidation and dramatic reduction of the number of devices is performed. This approach can save capital dollars and can also reduce operating expenses, but the operation cost savings is often temporary. Why is this temporary? Well, here's the challenge with this approach, consolidation can work in some environments, but we often see that by decreasing the number of devices across all user groups, some user groups end up having to buy more print devices, so that they can work more efficiently. Unfortunately, the devices that individual user groups purchase on their own have high operating expenses and often increase overall costs dramatically.
In both cases, what is missing is the analysis of all of the organization's departments with a specific focus on how each user group works and what workflow requirements they have. The aim of this analysis is to get the device placement correct i.e. implement a balanced deployment of equipment and integrated solutions that will increase the user's efficiency. By using this approach a managed print services consultant can help organizations save capital and operating expenses related to the enterprise print environment, while ensuring that all user groups have the tools they need to be successful at their jobs. In the end, user groups are happy and are able to work more efficiently.
Two other very crucial areas that are consistently overlooked by the two approaches mentions above:
A hardware refresh is performed without taking device security management into account and without a digital/physical document security plan.
A print device management plan is implemented without the tools to manage devices remotely through a console where driver and firmware upgrades, as well as automated securityimagescan be implemented across the fleet of equipment.
Is there an opportunity to optimize your print environment, in order to significantly decrease Capex and Opex, and increase efficiencies within your organization?
Contact us or request a no obligation print environment assessment, which will enable you to compare the costs and benefits of a potential managed print solution against the state of your current print environment. We will develop a custom project plan for your organization to ensure that significant savings, and user efficiency and satisfaction are realized through a true MPS implementation.
Additional Resources