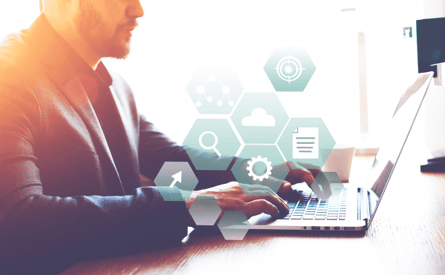 Despite what you've been told, Managed Print Services (MPS) aren't about hardware, supplies, and service. Not anymore. Today, it's all about digital transformation. If you missed our blog back in September, here's the short: companies need to stop focusing on the cost of producing a document and start thinking about the cost of finding it.
Market leaders are already ahead of this shift. Here's what you need to know:
Paper workflows are now digital

Document management is automated

Solutions address specific needs and requirements

Security is top-of-mind
Too many companies are taking too long to get things done. Why? Because paper-based workflows rely heavily on administrative time. Processes that should take days, take weeks. They're paying more in employee time, paper, and supplies for a less productive system. They don't know any better, but now, you do.

HP Capture and Route is a great example of a digital management tool that can automate workflows. With the press of a button, documents are scanned, indexed, categorized, and automatically linked to existing records. They are easier to find, distribute, and track than paper filing systems. And, the paper to digital workflow can transition to fully digital using the same tools in the future.
But are digital records secure?
That depends—not all software is created equal. At a minimum, you need encryption while your files are in transit and at rest. The above example can be taken one step further by integrating with a monitoring tool like HP Access Control. This app lets you see what users are scanning AND manage their permissions.
Your digital records are as secure as the solutions you choose.
Managed Print Services should be more than just hardware, supplies, and service in 2020. We can help. If your company is ready to bring efficiency to your business and work toward a digital workflow, contact us today.