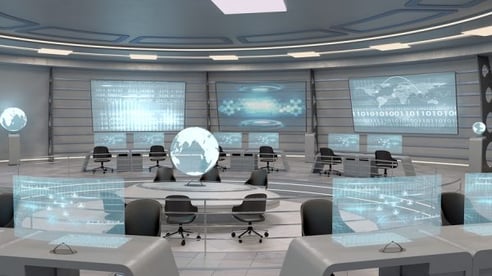 The Paperless Office concept was first introduced by IBM in 1975 as part of a vision of the future where computers would have a dramatic impact on the way people worked. Forty years later, paper documents still proliferate the offices of all types of businesses around the world. So, is the Paperless Office just a marketing slogan or is it really attainable?
After almost thirty years in the office printing business, I've seen great progress being made towards the Paperless Office, but don't foresee us becoming absolutely paperless any time soon. What I do see however, is an accelerated shift towards the Less-Paper Office. There are multiple factors that impact people's efforts to go paperless, resulting in a gradual transition versus the sudden elimination of paper.
Why go Paperless?
Here are the three primary motivators for going paperless:
Cost Savings
Paper documents cost money. Not just the actual cost of printing, but the processing, filing, finding, refiling and ultimate destruction (shredding) at the end of their useful life. Some industry experts estimate that 1-3% of a company's annual revenue is spent on managing documents throughout their lifecycle. That's a lot of money.
Environmental
Business owners, and their employees and clients are all keenly aware of the environmental impacts of paper production and printing, from trees, water usage, electricity and ink/toner to all the space required for storage. There are big motivators for implementing green initiatives and being seen as a good corporate citizen playing their role in saving the planet.
Efficiency
This highly competitive global marketplace is moving faster and faster every day. All businesses are looking for ways to improve efficiencies, respond faster, be more competitive and stay relevant.
So why are we printing more?
There are a few reasons we're printing more than ever:
Explosion of Data
The amount of information available on the internet grows exponentially on a daily basis. More data naturally leads to more printing.
Email
This instantaneous business communication is so easy, people create, send and receive documents at a far higher rate than ever before. Even if just a small fraction of this is printed, the result is still more paper-based documents scattered throughout your office.
Ease of Printing
Today's lower printer costs (especially colour), wireless connections and ability to print from almost any device, mean it's easier than ever to hit print, reach over and grab your printout.
It's What We Do
Like most things, old habits die hard. Going paperless requires changing the way we do things, learning new processes and getting everyone on board. Despite all our good intentions, change is hard.
What's Helping us go Paperless?
Just as access to information and technology advances have increased printing, they've also given us the ability to exchange information without paper.
Mobility
Using smartphones, tablets and notebooks to access the internet to email, search Google and access information anytime, anywhere allows us to easily go paperless. You can do more on your phone today than you could on your computer (if you had one) back in 1975.
Cloud Storage
Similar to mobility, the ease and relatively low cost of storing documents in the cloud, allows us to find, access and share them faster and cheaper than their paper-based cousins, which makes us all more efficient.
Security
The security features built into today's smartphones, computers and cloud services, give us the confidence to file, find and share most documents electronically and securely, instead of using the old filing cabinet. However, for those documents that still need to be printed, implementing a secure-print-release solution not only improves security it can also reduce print by as much as 30%.
Managed Print Services (MPS)
As businesses look to migrate from hardcopy to digital content, having a plan developed by a consultant who specializes in MPS will greatly improve the likelihood of being able to successfully deploy a Paperless Office.
With all of these factors impacting how we access, exchange and save information, is the Paperless Office just a myth or can it really be achieved? For those determined few, the technology and tools exist today to make going paperless a reality. However, for most of us the steady transition to the Less-Paper Office is more realistic. Like most things in life, it's all about finding the balance between multiple factors; cost, efficiency, the environment, workflow and technology advancements. There are lots of easy to implement, small initiatives that can get you started in the right direction, such as:
Automatic two-sided printing
Dual monitors
Digital signing software
Rules-based print tracking
The biggest impact of all will likely come from your coworkers. With Millennials now making up over 50% of the workforce and quickly moving into management positions, these are people who grew up in a digital world and going paperless isn't just an initiative, it's simply the way they work.